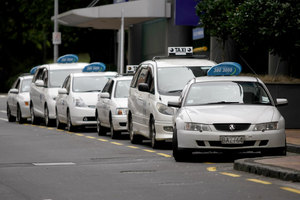 A Queenstown taxi driver was ambushed and robbed of $700 when looking for a passenger suspected of doing a runner, police say.
The driver, 24, picked up a male passenger in central Queenstown about 3.15am today.
At his destination of Queenstown Lakeview Holiday Park camping ground, the passenger stated that he couldn't pay the fare.
The taxi driver took him back to the Queenstown Memorial Recreation Ground where he said he would meet a friend who had some money.
When the passenger didn't return to the taxi after saying he needed to use a public toilet, the driver went on foot to look for him at the recreation ground.
He was then attacked and robbed by the passenger and two other men.
They stole a cashbox from the taxi cab, which contained around $700.
The man suffered minor injuries in the assault and is recovering at home.
Queenstown Police want to hear from anyone who might have seen people acting suspiciously in the vicinity of the recreation ground, Robins Rd and Gorge Rd or a white sedan car seen in the area at the time.
Anyone with information can contact Queenstown Police on 03 441 1600 or Crimestoppers, anonymously, on 0800 555 111.
- APNZ