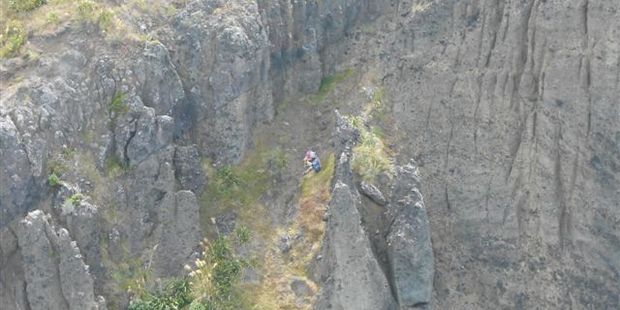 Do you know more? Contact the Herald here.
A couple have been rescued from a west Auckland cliff face after a woman fell while the pair were trying to avoid a king tide.
The man and woman, thought to be in their 20s, were airlifted off a steep cliff in Anawhata this morning after the woman slipped and fell around 10 metres.
She was "extremely fortunate" to have survived the fall with only minor injuries, Westpac Rescue Helicopter crewman Tinny Cannell said.
The woman, thought to be from the Auckland area, was taken to Auckland City Hospital with multiple cuts and bruises, he said.
The man was uninjured.
The pair had started a cross-country run this morning from Piha when they were caught out by a combination of an "extremely high" incoming tide, fairly heavy swells and the terrain, Mr Cannell said.
They had reached a rocky outcrop between White's Beach and Anawhata when they were forced uphill to avoid the tide and rough swells. But as they made their way across the top of the cliff the woman slipped.
"She was extremely fortunate to be extricated with just those minor injuries," said Mr Cannell.
"There was potential there for some very serious stuff to happen. It would only take a decent bang on the head from any of those rocks, or indeed loose stuff coming down on top of them and it could have been an entirely different scenario altogether."
The pair were both conscious when rescue crew found them, after being alerted by ambulance to their predicament shortly before 11am.
But the steep, rocky cliff face was so dangerous the rescue chopper was forced to unload some equipment before attempting the rescue, and kept their paramedic on a safety winch the entire time.
"There was the potential that if he had slid then it would have been another injured person on the ground. So very, very steep terrain."
The woman was treated at Auckland City Hospital for minor injuries and has since been discharged, an Auckland District Health Board spokesman said.
- APNZ