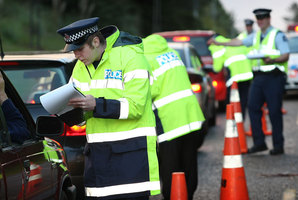 Fine dodgers could lose their driver's licence under strict new sanctions that come into effect later this month.
From February 17 "Driver Licence Stop Orders" (DLSOs) can be imposed on anyone who fails to pay traffic-related fines imposed on them by a court, police or a local government authority, Courts Minister Chester Borrows said.
The orders could also be imposed for failing to pay a reparation order imposed by a Court for a traffic-related offence.
DLSOs were a "powerful" new sanction, which would initially be targeted at repeat offenders who had racked up big overdue debts, Mr Borrows said.
"There are around 136,000 people who between them owe $48 million in traffic related fines and are making no attempt to pay.
"A lot of them have chosen to ignore repeated reminders and if they remain uncooperative they'll pay for it with their driver licence," he said.
"We will focus initially on the worst offenders, but anyone with an overdue fine should seize this opportunity to contact the Ministry of Justice and make a payment arrangement if they wish to hold on to their licence."
The Ministry of Justice, which would hand out the new sanction, would start by giving people with large amounts owing 14 days' notice to either pay up or set up a payment plan.
The motorist would get one more reminder, and if they were not compliant a bailiff would be sent to seize their driver licence, Mr Borrows said.
Their licences would remain suspended until the fine was paid in full, or payment arrangements were in place. If they were caught driving while their licence was suspended they could be prosecuted, and have the vehicle they were driving seized for 28 days.
"The aim is to get people who've been ignoring the authority of law to take things seriously, and to pay their traffic-related fines," Mr Borrows said.
A media campaign would launch today, letting people know about DLSOs and other enforcement powers, and encouraging those with unpaid traffic fines or reparation to arrange payment.
- APNZ