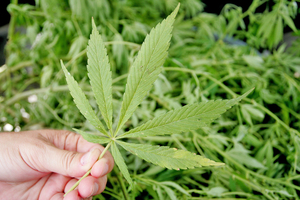 A South Otago man who admitted selling cannabis with with several people, including his brother, in the Milton area during 2012 has been jailed for 27 months.
John Douglas Taylor, 32, originally faced 28 charges relating to cannabis dealing, including cannabis oil, a class B drug.
He pleaded guilty to nine charges - one of possessing cannabis for supply and eight of offering to supply the class C drug.
Taylor was sentenced last week at the Dunedin District Court by Judge Michael Crosbie.
Crown counsel Richard Smith said Taylor was one of numerous people identified through Operation Ceiling, an electronic interception based police investigation targeting large-scale cannabis distribution throughout South Otago and Southland in 2012.
Analysis of cell phone data between April 30 and May 17 that year showed Taylor was in regular contact with his brother about the sale and supply of large amounts of cannabis and capsules of cannabis oil.
He received regular text messages from his brother asking him to bring cannabis to his address as he had people waiting to purchase.
From the text data analysed, transactions were identified showing the defendant offered to supply his brother with at least 7 ounces of cannabis and another person with at least 7 ounces, the summary said.
Judge Crosbie said Taylor's sentencing had been delayed because the court needed to look at the sentences imposed on other offenders convicted from the same operation. Sentencing in such cases was always a difficult exercise and "never mathematical", he said.
It was made more difficult when there were numbers of people involved in the same operation and they were sentenced in different courts, at different times by different judges.
Judge Crosbie said he took into account material provided to the court by counsel Sarah Saunderson-Warner, including references from Taylor's employer and other business contacts and his mother.
Against that was the fact Taylor had been in court before for selling cannabis.
Judge Crosbie said one of the main reason such charges were dealt with seriously was that, as long as cannabis remained prohibited, its sale and distribution was unchecked, unfettered and uncontrolled which meant that, once sold, cannabis could end up in the hands of the young and impressionable.
The sentence had to deter him and others from engaging in similar offending in the future, Judge Crosbie said.
On each of the nine charges, Taylor was sentenced to concurrent terms of two years and three months' imprisonment.