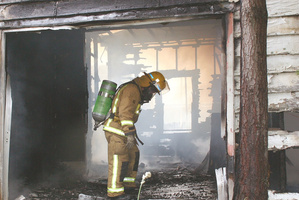 One of two men injured in multiple explosions and a fire at a suspected P lab near Whangarei last night has died.
The 49-year-old died in hospital from his injuries at 12.20pm, police said.
Emergency services were called to a rural property on Opouteke Rd, Pakotai about 7.35pm, where they found a shed and a car on fire.
A second man, aged 26, has been transferred to Middlemore Hospital today for specialist burn treatment. His condition is described as stable.
Polcie said the scene examination would continue in a bid to establish the exact cause of the explosion.
Emergency workers and neighbours who went to the scene last night were decontaminated.
The area was also under guard overnight, police said.
The dead man will not be named until all next of kin have been notified.
Anyone with information about the incident is asked to contact Whangarei police on 09 4304500.
- APNZ