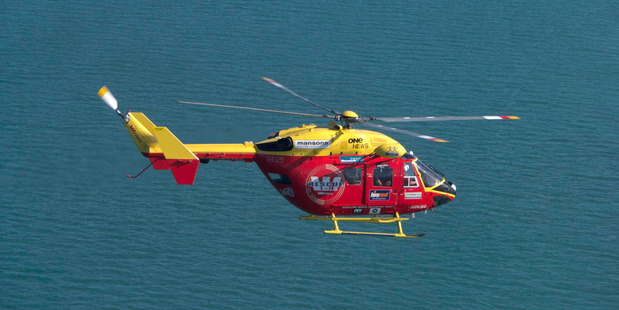 A wife dived into pitch-black sea to rescue her drowning elderly husband after hearing him fall from their boat.
The woman, holding her unresponsive husband's head above water, screamed for help from neighbouring boats.
Several people from other vessels raced to help the 78-year-old man.
Maritime police, the coastguard and a rescue helicopter also rushed to the scene at Ponui Island, east of Auckland, on Monday about 9.30pm.
A Westpac rescue helicopter paramedic was winched down into a boat to stabilise the elderly man as he was taken to shore.
Senior Sergeant Martin Paget, head of the Auckland maritime police, said the husband had fallen from the rear of an 11-metre launch.
"His wife heard him enter the water and has jumped in to help him. She lost sight of him momentarily before seeing him floating, unresponsive, with his face in the water.
"She's grabbed him and pulled his head out of the water and yelled at him to breathe and stay afloat. That seemed to have worked because he became responsive and began vomiting up sea water.
"She held him at the rear of the boat and started screaming for help."
A woman in a boat berthed nearby said the wife's screams shocked everyone into action.
"The lady was screaming, 'Help, help.' We were two boats behind them and it was pretty scary, actually."
The woman, who did not want to be named, said people from several neighbouring boats got in their dinghies and rushed to help, while someone else radioed the coastguard for assistance.
"We heard this screaming. We were in bed and rushed out the back of our boat. About four men jumped in dinghies. It was very frightening but it was amazing the way everybody was just straight over there."