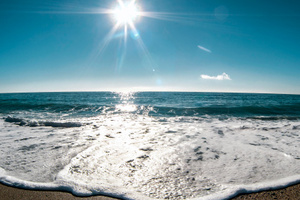 Summer has returned for most parts of the country but the lack of rain may be causing concern for some, forecasters say.
MetService spokesman Daniel Corbett said the country's weather had been steadily improving, with a large high building over the country.
"It is feeling more like summer. We've got a few little niggles around the edges - a bit of cloud or a leftover bit of drizzle today - there's a weak front which comes across the southern half of the country on Thursday."
The majority of the country was set for relatively fine weather for most the next 24 hours, although showers were clearing in Gisborne and arriving in Fiordland.
Auckland's week ahead was looking good, with temperatures in the mid, to low 20s, he said.
Although this summer had not brought the crippling drought conditions seen last year, farmers in south Canterbury, Christchurch, Hawkes Bay and in parts of Northland were concerned about a lack of rain, Mr Corbett said.
"Napier's a bit dry, they've only had 21mm [of rain], a normal mean for their January is 64mm."
Christchurch had only had 12mm of rain, while their mean for the month was 46mm, Mr Corbett said.
Despite the warmth, mornings had still been chilly, Mr Corbett said.
"The Desert Road got down below freezing [this morning], it was even frosty in places like Kapiti Coast and Dunedin."
A weak front would be coming in toward the South Island later tomorrow, bringing wet weather to Fiordland, Invercargill, Dunedin and possibly Christchurch.
WeatherWatch forecasters said a large anticyclone was currently pushing in from the west bringing mostly sunny skies, cool mornings and hot afternoons across the country.
Southland and Otago are also enjoying the sunnier weather, but an approaching southerly would bring cooler temperatures.
Daytime highs in coastal Southland and Otago would slip from the low to mid 20s tomorrow, to just 15C on Thursday, affecting both Invercargill and Dunedin, WeatherWatch said.
Despite mostly dry weather forecast for the rest of the week, temperatures will hang around the mid-teens into the first few days of February, WeatherWatch said.
Rain would weaken to drizzle and patchy showers as it moved north on Thursday, delivering very little to farmers, gardens and those in need of rain water.
- APNZ