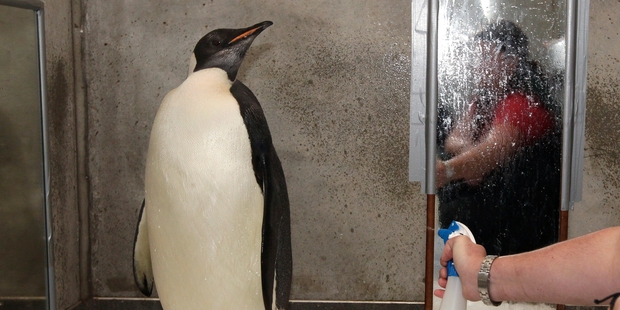 A cast of the foot of an emperor penguin dubbed New Zealand's "Happy Feet" has spent more than a year travelling around the world to members of a unique group.
In June 2011, the emperor penguin was found at Peka Peka Beach on the Kapiti Coast. It was given the name Happy Feet after the penguin in the film of the same name, who manages to wash up on the shores of Australia.
Shortly after it was found, Happy Feet was taken to Wellington Zoo, where it was cared for before being released about a month later - but not before a group of fans from around the world had formed.
Lin Wenn, of Hamilton, said the members had met online after a news website included a live chat forum on its link to a camera showing the penguin at the zoo.
"We were all interested in him and ... it just sprang from there into a group that have become firm friends from around the world."
When a cast of one of the penguin's feet was put up for auction on Trade Me, the group members rallied to get together about $700 to buy it.
The cast has since travelled up and down New Zealand - to the group's six members based here - and to Australia, the United States, Hong Kong and Germany.
Members of the group are encouraged to take photos of what they refer to as "The Foot" at landmarks special to a particular city or places significant to a specific member.
"It's been to a few pubs ... on the roof of a police car in America, to Texas, Hong Kong and down to Hobbiton here in NZ - it's been a hoot," Mrs Wenn said.
"It's been incredibly special to have something to share with everyone and to be able to see something in person - to have a piece of Happy Feet."
There are a few rules when The Foot is sent to a different member, including that the parcel must be couriered and tracked all the way.
Despite precautions, The Foot has almost been lost after being mistakenly sent to a different part of the world, and was stuck in customs in Germany, where another member lives.
"There has definitely been some hair-raising moments. There was a problem in Germany going through customs, who wouldn't release it.
"Our member in Germany ended up going there in person and basically told them she wasn't going to leave without it."
Mrs Wenn said The Foot's next destination is Chicago, where a member's wife is due to give birth next month.