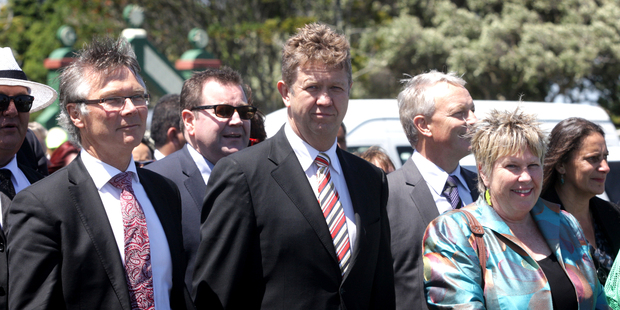 Labour leader David Cunliffe has been welcomed on to Ratana Pa for the first time as the party leader - the third leader the Church followers have been faced with welcoming in the past four years.
Before being welcomed onto the marae, Mr Cunliffe said he believed Labour's long links with the movement were moving on to a new generation - Labour has selected Adrian Rurawhe, the grandchild of the movement's founder, prophet Tahupotiki Wiremu Ratana, as its candidate in Te Tai Hauauru.
Mr Cunliffe was hopeful that selection, as well as the retirement of Maori Party Co-leader Tariana Turia, would mean Labour would reclaim the seat.
Mr Cunliffe attended with about 20 Labour MPs and sat flanked by MPs Grant Robertson and Maori Affairs spokesman Shane Jones.
In the powhiri, Mr Cunliffe delivered a lengthy mihi in te Reo, assisted by some handwritten notes.
He then spoke of the long relationship between Labour and Ratana and said the party was ready to take on the challenge Ratana had set down to Michael Joseph Savage to look after Maori people.
"We ask you for your confidence to renew that relationship."
He said he had heard the concerns of the morehu, especially over jobs and housing. He said attention had to move towards developing iwi now that the settlement process was almost over.
Prime Minister John Key will be welcomed onto the marae on his 8th visit as National leader later today.
Ratana speakers from the paepae raised issues such as job opportunities and lack of affordable housing.
The Ratana anniversary is usually the starting line for the political year, where parties begin jostling for the Maori vote.
Maori Party co-leader Te Ururoa Flavell and minister Pita Sharples will go onto the marae as part of the Government grouping with National this afternoon.
The Green Party MPs went on with Labour.
However, Mr Flavell and Dr Sharples said that did not necessarily indicate they were wedded to National post 2014. Mr Flavell said the Maori Party was aware that many Maori were not enthusiastic about its partnership with National, and the party would consult Maori before making any decisions after the 2014 election.
Dr Sharples said some of the process of building closer links with Labour had begun, and he believed it was time to consider Labour as an alternative. He said the Maori Party had consistently said it would work with either party - and was the only party beside New Zealand First, that both National and Labour had listed as potential support partners.