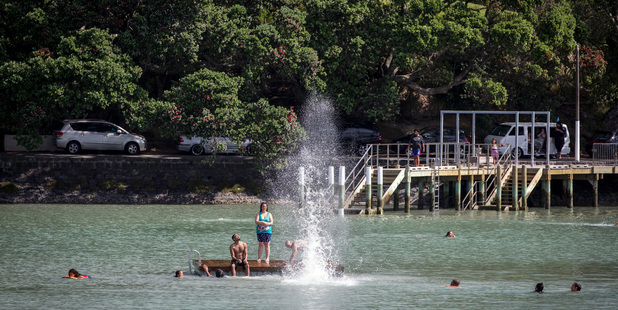 Swimmers are being advised to avoid the popular Judges Bay swimming spot in central Auckland after high levels of bacteria were found during routine testing.
Auckland Council has put up warning signs at the bay to advise swimmers and other beach users of the poor water quality since high levels of bacteria were found by a monitoring programme which tests water quality across 63 of Auckland's beaches.
Auckland Council regional and environmental control manager Marcus Herrmann said the council had yet to confirm what had caused the high reading.
"There are a number of factors, including the effect of the recent rainfall washing matter into the bay, that could have influence on the levels of bacteria.
"The beach is not closed, there are signs up advising against swimming.
Samples will be taken at high tide every day and once we have a good result the signs will get taken down.''
The closure follows that of Mission Bay beach two weeks ago.
The popular Auckland spot was closed for two days after tests showed high levels of enterococci bacteria, which feed off faeces.
It was not known what caused the high bacteria levels, Mr Herrmann said.
"Mission Bay has a good history of water quality and that result was very unusual, as such it isn't cost effective to carry out further investigations to confirm the source.
"If there was an ongoing problem of poor readings at a popular swimming spot then further tests would be carried out to identify what the problem was.''
Reasons for the spike at Mission Bay could have included an animal carcass in the water, waste from boats and a false-negative result, another council spokesman said.
The Auckland bacterial outbreaks follow the closure of a dive platform on Wellington's waterfront, which has been closed since late last year due to high enterococci bacteria levels.
The platform is near a stormwater outlet which drains a catchment stretching to Brooklyn, the Aro Valley and Mt Cook, and some rural land.
Wellington City Council's chief asset officer Anthony Wilson said engineers were searching for a possible contamination source in the catchment.
"However considering the problem could be caused by a broken pipe or alternative source anywhere in the 300-hectare area then it is not going to be a quick find-and-fix.
"There are more than 50km of public drains in the catchment and an unknown length of private drains. The source of the pollution could be in any of these drains.''
- APNZ