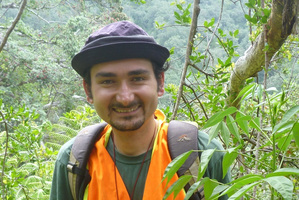 A Romanian man who disappeared while volunteering with the Department of Conservation on a remote island likely drowned, a coroner has found.
Mihai Ioan Muncus-Nagy, 33, has been presumed dead since vanishing from Raoul Island, in the Kermadec area, in January 2012.
He went missing as he was taking water temperature readings from Fishing Rock on the island, about 1100km northeast of Cape Reinga. His body has never been found.
The findings of a November inquest into his death were released today.
Coroner Brandt Shortland said he was satisfied that "on the balance of probabilities Mr Muncus-Nagy has in fact fallen, for whatever reason, and has eventually drowned".
He said while the evidence does not support Mr Muncus-Nagy having been knocked over by a wave, he believed he had fallen into the water and "most likely panicked, which has ultimately led to his demise".
"In my view most New Zealanders would be far more experienced in water and coastal conditions than Mr Muncus-Nagy would be. Most New Zealanders would have panicked in the open ocean in the same situation. It would have been a very stressful experience," Mr Shortland said.
"It would take considerable training to maintain one's composure and overcome the fear and anxiety associated with panic in such a situation.
"I am aware that Mr Muncus-Nagy was considered a good swimmer, but nevertheless, he would never have been prepared for such an experience as this."
Mr Shortland said it had been clear from the inquest that DoC staff had taken the death personally and had endeavoured to improve health and safety practices on the island, as well as changing its induction and training for staff and volunteers.
One of the new policies was a compulsory sea survival and water safety course for Raoul Island workers.
"The inquest was very emotional and personal on a number of levels for the colleagues of Mr Muncus-Nagy.
"Almost two years after this tragic event the emotions and feelings still remain high and it is hoped at the conclusion of the inquest, and release of this finding, closure may come," Mr Shortland said.
- APNZ