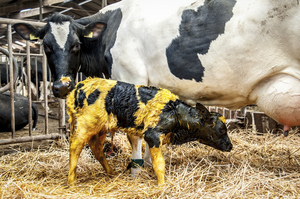 A New Zealand dairy company is reportedly being investigated by Chilean authorities over allegations it inhumanely slaughtered thousands of calves it couldn't use for milk production.
Manuka, which owns 22,500ha of land and employs 340 people in the South American country, has been splashed across Chilean newspapers alongside photographs of dead calves lying in pits.
Calves were allegedly slaughtered within days of birth to ensure they did not consume any milk destined for sale, with workers forced to let them starve, cut their throats or beat them with heavy objects, according to media reports.
They were then buried in "clandestine cemeteries", one newspaper reported.
However, the company told APNZ it has strict euthanasia protocols, and it was investigating whether one of its farm managers had not followed the correct procedure.
If that was the case, management would take appropriate action, it said.
Chilean politician Fidel Espinoza raised the accusations in the Chilean Parliament, saying the slaughter was animal abuse, and described it as a "savage massacre", which amounted to "a criminal act on the part of those who run ... the company".
He accused Manuka management of carrying out activities it would be unable to in New Zealand, and called on it to "not make fun of Chilean justice".
Chief prosecutor for the area Leyla Chahin told journalists an animal abuse investigation had begun, a crime with penalties ranging from a fine to three years in prison.
Ms Chahin said investigators had yet to take statements from the farm because "nobody has been very co-operative".
One newspaper also reported the Agriculture and Livestock Service (SAG) in Los Lagos had in the past sanctioned the company more than one million Chilean pesos (NZ$2207) for various offences related to the "implementation of euthanasia solutions made by non-veterinarians".
However, Manuka director Mark Townshend denied the "dramatic and emotive" headlines and described the routine slaughter of bobby calves as the "commercial reality [of dairy farming] that nobody wants to talk about".
"I think the article is probably confusing what is a very normal process with what could have been some sub-standard practice on one of our farms," Mr Townshend said.
"There's an accusation made that on one of the farms - we've got 37 farms over there - the farm manager may not have carried out the correct protocols. We're trying to get to the bottom of that. Our management in Chile are working through that."
Mr Townshend said it would be "regrettable" if the investigation found somebody had not followed the company's "strict protocols", and the company would take appropriate action.
The veteran dairy farmer - who has sat as director on the NZ Dairy Group and was a founding director of Fonterra, according to his company's website - said accusations that his farms had been unco-operative, couldn't be "further from the truth".
"Our management have taken it seriously," he said.
"They are serious charges in Chile, and we've no option but to, A, co-operate and, B, find out whether there is substance to the accusations."
However, he said he did not know at this stage how long an investigation might take.
Manuka is in talks with a New Zealand bobby calf slaughter service to open a Chilean-based facility to work with their farms there, Mr Townshend said. The operation would mean calves are no longer euthanised on the farm by the farm manager.
The Green Party called the reports highly concerning, with its animal welfare spokeswoman Mojo Mathers saying the reports put "our whole country's reputation at stake".
"The New Zealand owners of this company must act quickly and strongly to ensure that the animals they are responsible for are looked after to a decent standard," she said.
"All New Zealand companies should ensure that they meet New Zealand animal welfare standards, including in their overseas operations."
- APNZ