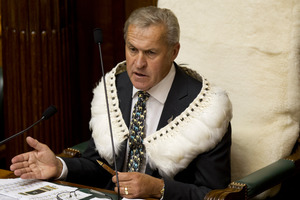 The Speaker of the House David Carter will preside over a huge powhiri today at Parliament to welcome speakers from around the world as debate on his rules on the role of women in Maori ceremonies heats up.
Mr Carter is hosting the Conference of Speakers and Presiding Officers, a major gathering of 250 delegates from more than 60 Commonwealth countries. The conference took place in a Commonwealth country every two years and was designed to allow Speakers to discuss their roles and the issues they faced.
No women will be in the front row during the powhiri on Parliament's forecourt this morning, though organisers say that this is because all of the most senior delegates and officials were men.
Mr Carter has prompted a review of Parliament's kawa (protocols) after two of Labour's MPs Annette King and Maryan Street were asked to move from the front row during a powhiri in Parliament last year - an act he described as "embarrassing".
The review has been met with divided opinions from present and past Parliamentary leaders.
Prime Minister John Key said it was important to reassess these issues from time to time "to see if they were as relevant as they were in the past".
Former speaker of the house, Professor Margaret Wilson, told the Herald that women who held senior roles should be able to sit or stand at the front during an official ceremony.
She said that in her time as Speaker, she negotiated to be seated an inch or two behind and to the side of the men in the front row.
Labour MP for Hauraki-Waikato Nanaia Mahuta, who helped initiate the review, agreed that a powhiri at Parliament should reflect who was leading the ceremony.
"For example, if [Education Minister] Hekia Parata was launching a particular initiative... then I'm sure, like on the marae, accommodations would be made so that she could be factored into the proceedings."
She said that if the kawa were changed, they would have to be more explicit about the role of women.
Wellington iwi Te Atiawa, which helped devise the kawa 15 years ago, opposed any changes that could see women seated up front and speaking on the paepae.
Morrie Love of Te Atiawa and chairman of the Wellington Tenths Trust said the paepape was the domain of highly competent Maori speakers and there were few female MPs - with the exception of National MP Hekia Parata - who could speak Te Reo fluently.
To have people entirely incapable of speaking the language sitting on the pae was "completely wrong".
Mr Love said the view that women not sitting in the front row was sexist was also wrong as different cultures had roles for both sexes.
A powhiri will not start without a karanga which is only performed by women.
Maori Party leader Tariana Turia also staunchly opposed a change, saying it would "bastardise" proud cultural practices.