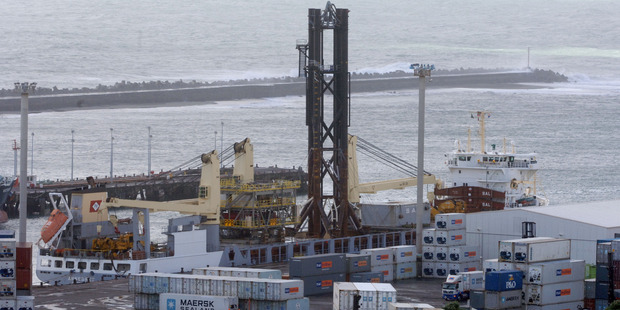 Firefighters at Port Taranaki have donned heavy duty protective suits to battle a chemical leak aboard a ship.
Gas is continuing to leak from a 209-litre drum in the Poavosa Wisdom's holds. The drum holds aluminium phosphide, which gives off toxic fumes when it comes into contact with water.
Fire crew at the scene have donned level 4 gas suits to work on stopping the leak level four is the highest risk level and firefighters with equipment to assist breathing have been lowered into the ship's hull.
Fire Service media officer Cameron Gillespie said a change of wind direction to onshore a northeasterly meant fire engines on the wharf had to be moved. Earlier the gas was heading out to sea.
Taranaki Base Hospital said it was expecting five crew from the ship to be admitted for observation.
Another ship on the other side of the wharf was put to sea about 4.10pm.
Another cargo ship is tied up on the next wharf, a couple of hundred metres away from the one with the leak.
Mr Gillespie said there had been communication problems for the Fire Service because most of the Poavosa Wisdom's 21-strong crew don't speak English.
Earlier this afternoon, Newstalk ZB reported the area was being evacuated, with boat crew, port workers and residents all told to leave after an alert was received just after 1pm.
The road to the port was closed 500 metres away.
The Poavosa Wisdom is carrying wheat.
- APNZ