Boozy online game has backers and detractors, but Dom's not sorry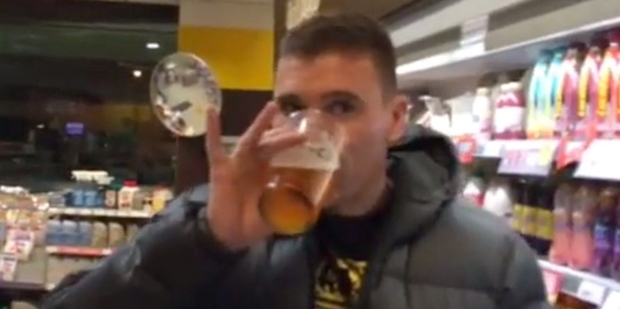 Shock jock Dom Harvey is standing by a grog-guzzling video filmed as part of a controversial craze.
The fad features clips of people drinking beer or other alcohol before challenging or nominating friends to perform and post similar exploits.
Critics blame the game for inciting underage and binge drinking. This week police condemned a clip showing a 6-year-old boy sculling the contents of a Heineken bottle. On Tuesday All Black Steven Luatua apologised after pouring beer down a friend's throat in a video.
Harvey said he would not apologise. "It's absolutely despicable when it gets to the point where an All Black has to apologise for being with someone who's drinking a beer," Harvey said. "I've got absolutely no intention of apologising."
Alcohol Healthwatch director Rebecca Williams called the 'neknominate' fad a "crazy, foolish, dangerous game". "If Dominic hadn't taken part and he'd made a public statement that he wasn't taking part then people would have had something to applaud," Williams said.
"Most New Zealanders believe we have a problem with our alcohol culture."
Harvey's wife and co-host Jay Jay Feeney said she she felt it was appropriate Luatua said sorry.
"If you've got an All Black doing it, it's not so cool. If John Key did it, it's not so cool. If it's Dom the larrikin from The Edge who's doing it, people will just give him s***. That's our audience, his fans. Anyone who doesn't like Dom won't even be paying attention to it. But I'm not condoning it."
Harvey's clip was filmed in London and shared on Facebook.
In August last year, Harvey apologised after accidentally sending a photo of his genitals to Paralympian Sophie Pascoe. In June, More FM Breakfast host Hayley Holt was taken off air after she was affected by alcohol, two days after she apparently failed a drugs test on air.
The Edge programme director Leon Wratt laughed off the incident, saying "2014 has started great for New Zealand if this is making the Herald on Sunday".