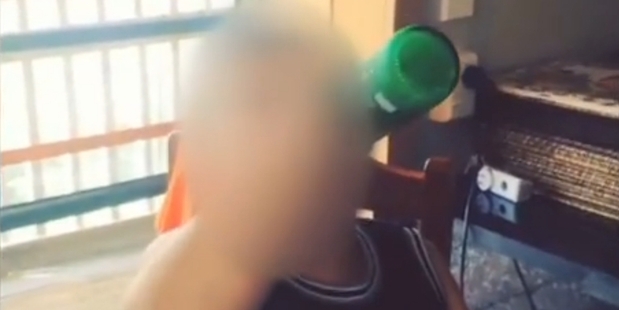 Child Youth and Family is investigating a video in which a young boy is seen sculling from a beer bottle as part of a Neknominate dare.
The video of the boy, understood to be 6, was posted on image-sharing social networking site Instagram.
Holding a green Heineken bottle, the boy throws his head back as he starts to down the drink.
After a few seconds, he struggles, as a voice in the background eggs him on: "Keep going, keep going!"
A woman sitting to the side of the boy then reaches to take the bottle out of his hand while saying: "That's all right. No, no, no, that's enough."
She tells the boy to nominate someone else to do the same - but the boy struggles to speak.
A relative told One News it was fizzy drink juice in the beer bottle and the clip was made as a "piss-take" of social media craze Neknominate, in which people scull an alcoholic drink in funny ways before nominating another person to continue the chain.
But authorities are unimpressed and now CYF is involved.
General manager operations Paula Attrill said whether or not the child was consuming alcohol, posting such a video online was irresponsible and unfair to the boy.
"If we can identify the child, it is likely we'll make contact with the family to see if there are any care and protection concerns for (him)."
Mrs Attrill said the clip was alarming and CYF was disappointed something like this would surface not long after a YouTube clip of a drunk 9-year-old was revealed.
"This is yet another alarming video within the space of a week involving a young child and alcohol.
"I strongly condemn the provision of alcohol to children and I fail to see how the senseless act of placing embarrassing and humiliating videos of children online is anything but stupid.
"Responsible adults should know better," Mrs Attrill said.
Police have also condemned the clip, saying it was disappointing to see something that apparently "encourages irresponsible binge drinking".
All Black Steven Luatua this week apologised for his involvement in a Neknominate clip, where he was filmed pouring beer down another man's throat.