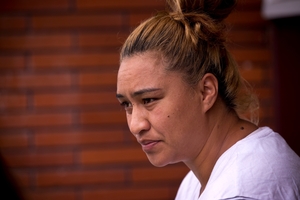 An international basketballer's attempt to avoid a drink-driving conviction that could affect her career failed today.
Judge Claire Ryan said there was no solid proof before the Auckland District Court that Jordina Katu was likely to be selected for the New Zealand Tall Ferns or that a conviction would jeopardise that.
Katu was in court for sentencing on a drink-driving charge, where she argued a conviction would limit international travel because she might be unable to enter some countries, such as Canada, where the Tall Ferns were soon scheduled to play.
The court was told Katu had represented Samoa and New Zealand and her defence lawyer Nathan Batts said she was hopeful of Tall Ferns selection.
He had given the court a letter from a former Tall Ferns manager that was supportive of Katu, but it did not say she was definitely in the international squad.
Judge Claire Ryan said that in order to not convict Katu, she needed to see something that clarified Basketball New Zealand's position on her specifically and the organisation's stance on criminal convictions.
The judge also rejected other grounds of the discharge application, including that Katu would suffer shame and her offending was "low level". She said she wasn't satisfied the consequences of a conviction would be out of proportion to the offending.
Katu was convicted, disqualified from driving for six months and fined $500.
Basketball New Zealand national senior teams co-ordinator Peter Kadar said later today that Katu had never played for the Tall Ferns and wasn't "on the radar" at the moment.
She had been invited to trial in 2009/10, but had not been involved with the national set-up since then.
Katu, 27, recorded a breath alcohol reaching of 704 micrograms when she was stopped on a Sunday morning in May, above the legal limit of 400mcg.
Katu told APNZ yesterday the "stupid" mistake should not prevent her from fulfilling her potential in basketball.
"I will probably only be allowed to play in local tournaments [if convicted], maybe Australia," she said before sentencing.
She said took the wheel after a designated sober driver had too much to drink at a friend's 30th birthday celebrations.
Katu, who had no previous convictions, promptly admitted her offending and had since sought counselling.
She has signed with Melbourne club Craigieburn Eagles for the 2014 Victoria season. Katu said she dreamed of competing at the 2016 Olympics and a conviction would cause her to reconsider her playing future.
According to Ministry of Justice figures, 355 people throughout New Zealand were discharged without conviction for drink-driving or refusing to take a blood test in the five years to 2013.
Over the same period, 136,942 people were convicted.
- APNZ