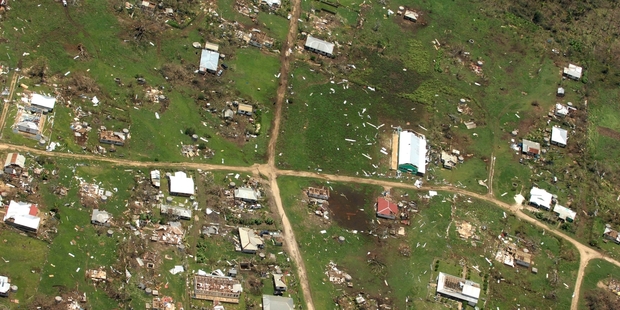 As many as 400 families had their homes severely damaged or destroyed in a powerful storm which struck Tonga, but officials are relieved the death toll hasn't risen beyond one.
Director of Emergencies Leveni Aho said it was "almost unbelievable" there weren't more fatalities in the devastation caused by Cyclone Ian, which pummeled the South Pacific archipelago with gusts up to 287km/h on Saturday.
Worst hit was the Ha'apai island group, home to 8000 people. Authorities said one elderly woman on Lifuka Island was killed. Mr Aho said several people suffered moderate injuries but none were life-threatening.
Mr Aho said the cyclone's destructive path was unusually narrow and did not create major flooding, which helped limit the damage. He said relief supplies had begun arriving but he remained concerned that fresh water supplies were dwindling, in part because many people rely on roof rainwater catchment systems that were destroyed in the storm.
He said that one of the two main cellphone operators restored service yesterday. Residents remained without power, he said, but he hoped power would be restored to some places in several days.
He said there was severe damage to the control tower at Ha'apai Airport but that some flights carrying relief supplies had been able to land.
Most of the destroyed homes were built with light timber frames and iron roofs, Mr Aho said.
He said many residents lived subsistence lifestyles and may face food shortages after their crops were destroyed.
Foreign Affairs Minister Murray McCully announced yesterday that New Zealand would make $50,000 immediately available to respond to specific requests for assistance.
New Zealand's High Commissioner to Tonga travelled to Ha'apai yesterday to view the extent of the damage and assess what types of further assistance may be most useful
A New Zealand Air Force P3 Orion had completed an aerial damage assessment on behalf of the Tongan Government.
There are 146 New Zealanders registered with the ministry as being in Tonga, but there had been no requests for consular assistance from Kiwis in affected areas.
Transport infrastructure including roads, ports and airports are operational and relief supplies are being distributed.
Oxfam New Zealand spokeswoman Lucy Oakshott said the lack of communication was making it extremely difficult to know how bad the situation was.
"We can't get hold of anyone. We're well established there and we have lots of contacts but we can't get hold of anyone." APNZ, AP
- APNZ