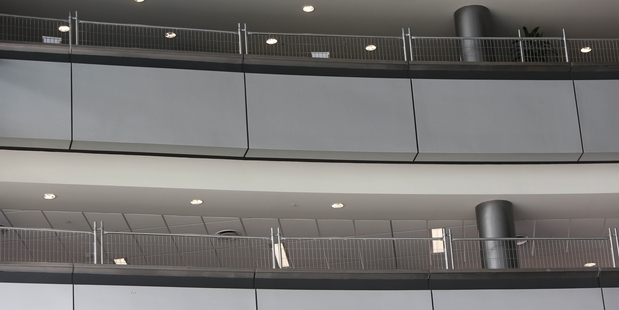 Safety barriers have been installed in the Auckland University building where two people have fallen to their deaths.
The tall, metallic barriers went up at the Owen G. Glenn building yesterday after a student fell to his death on Monday.
It was the second such death in the building in just over a year. In November 2012, a young man fell six storeys in the building, in front of a crowd of students preparing for exams.
By yesterday afternoon, the barriers were visible on several levels beside the Glenn Building's 26m-high atrium.
The University of Auckland told the Herald on Sunday that the barricades were temporary, until permanent barriers were installed.
"Since the incident in November 2012, the University of Auckland has engaged consultants to advise on measures to increase the safety from falling, even (though) the building's design exceeded Building Code requirements.
It has also increased internal security throughout the building," a university spokeswoman said.
University property services director Peter Fehl said some design changes suggested after the first tragedy were already in progress, but after Monday's incident, the temporary barriers went up.
The university said counselling was available to people traumatised by the young man's death.
The Owen G. Glenn building houses lecture theatres, computer labs, work rooms and social spaces. It was built after tycoon Owen Glenn donated $7.5 million in 2002.

Where to get help
• Youth services: (06) 3555 906
• Youthline: 0800 376 633
• Kidsline: 0800 543 754 (4pm to 6pm weekdays)
• Whatsup: 0800 942 8787 (noon to midnight)
• The Word
• Depression helpline: 0800 111 757 (24-hour service)
• Rainbow Youth: (09) 376 4155
• CASPER Suicide Prevention
If it is an emergency and you feel like you or someone else is at risk, call 111.