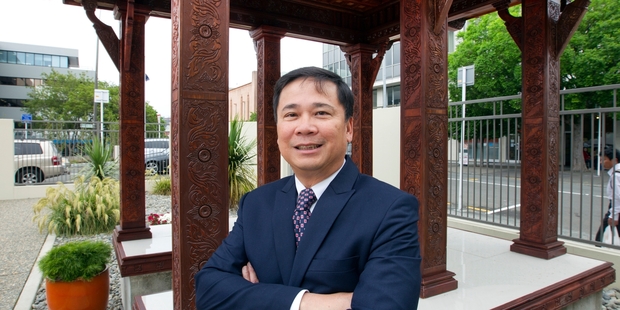 Can you give us a brief rundown of your career before you came to New Zealand at the start of 2010?
I was in Egypt for 4 years, during which time New Zealand opened its embassy in Cairo. I had a good time meeting with the NZ ambassador and your former Prime Minister Helen Clark opened the embassy. Before that I was the director-general of the Department of South Asia, Middle East And African affairs. I looked after 71 countries. My first post was in New York. My second was in Singapore.
What are the most interesting bilateral issues between New Zealand and Thailand at present?
We don't have any problems at all. After the Cold War we joined hands in many areas and you sent a team to help the Americans set up Seato, the Southeast Asian Treaty Organisation. Mostly we are looking at how to further co-operation in education, do more business together and promote tourism together. New Zealand is a popular destination for Thai to send their children to study.
What's been a memorable visit you've had in New Zealand?
Each city I visit has very special memories for me. I went to Rotorua (and it) was very impressive. Dunedin and Queenstown are impressive also, the location and the people. Dunedin is like Scotland because the buildings are very old. Kaikoura and the whale-watching is very exciting and impressive. Napier is good to visit ... so many good vineyards, like Church Rd, and the famous golf course at Cape Kidnappers.
Have you formed a view about the characteristics of Kiwis?
I have been in many countries and I don't want to humiliate them but to me New Zealanders are different. You are very humble, sincere, honest and, like Thailand, very hospitable and very helpful. I've been to Europe - I don't want to mention any countries - but when you get lost and ask for directions the reaction of people is that you are naive or stupid or they won't answer the question because they are busy. But for New Zealand, people do not hesitate to help when you ask. And if they don't know, they'll find someone to tell you.
Is there something you'd like to do in New Zealand but haven't yet?
I'd like to do gliding from the mountains with a parachute. This is what I dream of but my wife cautions me and says you have two children to take care of and one wife. Queenstown [has] plenty of places.
What advice would you give to Kiwis visiting Thailand?
I would say to a first-time visitor to Thailand, don't try the spicy food yet. It is very spicy and it might affect their digestion and stomach and ruin their programme in Thailand. Also be respectful. Thai are Buddhist and are very conservative in terms of order: we respect older people and places like temples where we take shoes off.
What has been the highlight of your diplomatic career?
I would say working in Egypt was a challenging one. It was totally different because I'm Buddhist and Egyptians are Muslim. The religions are different, the cultures are different, the mentality of thinking of things is different. I was lucky because I had an audience with the Grand Imam Tantawi - but he has passed away. He was a very nice and kind person and I asked him for his help to support my project in dealing with the Thai students. I had a chance to invite him to visit Thailand and have an audience with His Majesty King Bhumibol. That conversation went well and created a closer relationship between Thailand and Egypt.
What advice would you give to a young person hoping to become a diplomat?
Learning from university is one thing, but in real life things are different. Being a diplomat you must be very patient. You must be very dedicated to work. You learn by experience. Most importantly you must be very professional which means you must abide by the rules.