Auckland couple battling with recovery seven months after Isle of Man motorcycle smash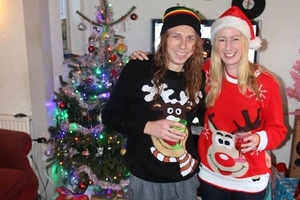 Seven months and 11 operations after a rider ploughed into the crowd during a European motorbike race, an Auckland couple are still a long way from recovery.
Tracey Partridge, 27, and Luke van den Bos, 32, were taking a break from their London working lives when rider Jonathon Howarth crashed through steel barriers into the crowd at the International Isle of Man Tourist Trophy (TT) Race in June.
They were amongst 11 bystanders who received horrific lower leg injuries and have since undergone extensive medical treatment that has drastically altered their dream OE.
Mr van den Bos is about to undergo his eighth operation on his legs and Ms Partridge has had four on her right ankle.
"Our injuries, especially Luke's, were very serious. Luke's very much still in the healing process and the one thing I have learnt is that it is just going to be such a long road to recovery," Ms Partridge told the Herald from their London flat.
"It's not like how I would have imagined, that once you get the plaster off you are there, there's so much more to it."
An open wound on Mr van den Bos' leg became infected, causing him to lose 5cm of bone that had to be grown back by adjusting an external cage on his leg several times each day.
"It was about six months ago that that met and we're just waiting for it to join," she said.
The operation in a few weeks will inject bone marrow from his femur to help fuse the bone back together.
"We're really starting to realise that the length of time this is going to take has changed our lives for now. Knowing there is still such a long road ahead of us can be really upsetting at times.
"We planned to come here for a year and for all these holidays we wanted to do. And after a year our lives have just stood still here in London and it's all focused around the next hospital visit."
Ms Partridge still walks with a crutch and resumed fulltime work as an administration assistant two months ago. But Mr van den Bos was largely housebound and unable to return to his plastic fabrication job.
"Luke is very restricted with how much he can do and where he can go. It's quite tough being away from family and friends back home. At times it's quite emotional because we have a lot to deal with and a lot to live with."
Due to their employment and working visas the couple were covered by the UK's public health system but hired an Isle of Man-based lawyer to help them seek damages from the race organisers, ACU Events Ltd.
The annual race along more than 60km of public streets attracts daring competitors who reach speeds of up to 320km/h. In the last 13 years, 45 riders, two spectators and three officials have been killed.