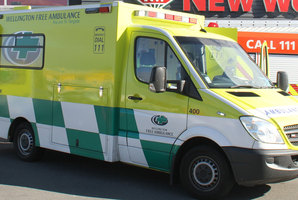 A Wellington paramedic is devastated after treasured mementos from an uncle's funeral were stolen from her rapid response car while she attended a medical emergency last night.
Wellington Free Ambulance team manager operations Helen Berry, who had just returned from the funeral in Australia, left the items in her work bag while responding to a call-out in Paekakariki about 11.30pm.
She thought she had locked the doors to her clearly marked Wellington Free Ambulance rapid response vehicle when she dashed into the house.
But instead she hit the "unlock" button on her keys and, when she returned to the vehicle 50 minutes later, she found her bag had been stolen.
"I was devastated that someone would do that, especially when you're responding to an emergency," Ms Berry said.
"Luckily, I had taken all the medical gear into the house, otherwise that might have gone as well."
The bag contained mementos of the funeral, including a letter from her aunt to Ms Berry's mother, as well as her passport, an iPad and about $600, which was a gift from family members to help towards the costs of the flights to her uncle's funeral.
"I'd only been back at work for two days and hadn't had time to transfer all my personal stuff out of my work bag," Ms Berry said.
The bag has since been handed in to Kapiti Police but its contents are missing.
Wellington Free Ambulance chief executive Diana Crossan said she found it hard to believe anyone would stoop so low as to steal important personal possessions.
Anyone with information about the items was asked to contact police.
- APNZ