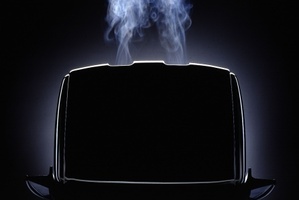 A common kitchen feature has been blamed for fires which destroyed one home and badly damaged another in the past month.
Kitchen 'appliance garages', which have pull-down doors to hide toasters, kettles and other small appliances, were a common cause of fires, according to the Fire Service.
Fire investigator Gary Beer said if appliances were not pushed well into the cupboard, the door could accidentally be lowered onto on/off switches or toaster arms.
In the past five years, several homes had been destroyed as a result of such fires, he said.
On December 12, a two-storey home in Mangawhai was gutted by fire after the roller door of the cabinet was accidentally pulled down onto a toaster handle and the family left the house, Mr Beer said.
By the time the fire was noticed, it was too late to save the house.
The second fire, on New Year's Day, left a Whangarei home badly damaged by smoke, again when the cabinet roller door was pulled down onto a toaster handle, Mr Beer said.
"The occupant was at home and was alerted to the fire by a smoke alarm. However, much of the house was smoke logged."
National fire investigation manager Peter Wilding said it didn't take long for heat to build up in the cabinets and fires could start within a few minutes.
The issue had been raised with kitchen designers. At least one major manufacturer now included micro-switches which shut off power to the cabinet when the door was lowered, he said.
"However, a lot of homes have these types of appliance garages, and the recent fires are a reminder that they pose a very real risk of fire.
"Our advice is to turn all appliances off at the wall when they are not being used, but ideally, in these types of cabinets, it would be better to have an electrician install the micro-switch."
- APNZ