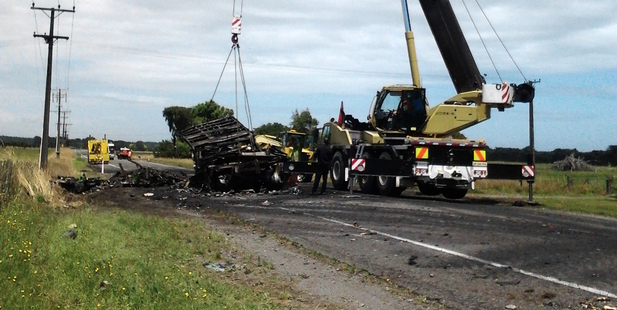 The number of people killed in a fiery crash in Manawatu early today is still unclear due to the destruction of the wreckage.
A witness to the three-vehicle pileup says the occupants of a car had no chance of survival when all three vehicles exploded.
A vehicle pulling a large boat and heading south was being followed by one of the trucks and then a red Nissan, State Highway 1 resident Greg Perry told the Manawatu Guardian.
Those vehicles and another truck burst into flames when they concertinaed in a dramatic collision just after midnight, he said.
"It instantly went up in flames. The flames were up to the power poles.
"I thought there might have been flammables onboard because I heard some loud explosions.''
Mr Perry, who lives next to where the accident happened on SH1 between Sanson and Foxton, said both male truck drivers got out of their cabs after the collision and appeared to be uninjured, but the occupants of the car had no chance of survival.
"The people in the car would not have had a chance and no emergency services could have got to them.''
Police, who are struggling to piece together what happened due to the extensive damage at the crash scene, have been unable to determine whether the person who died was a man or a woman.
It is understood a second person was also in the car, but police were still trying to confirm whether that was the case.
Neville Pearson, who lives about 1km from the crash on Milner Rd, said he was woken by a loud bang in the middle of the night.
When he got up to investigate, he spotted flames between 30m and 40m tall coming from the crash site.
"It looked to me like the line haul [truck] went over the car. There was a huge fireball,'' he said.
"The flames were the size of the trees - the tyres were going bang. It was quite a horrific accident.''
Mr Pearson said he headed down to the crash scene after about 15 minutes, by which time the car was destroyed.
"There was no sign of the occupants at all.''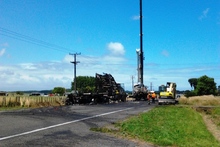 The owner of one of the trucks involved, Big Chill chief executive Michael Roberts, said regardless of who was at fault, fatal crashes were always traumatic for the driver.
"It is pretty tough. I understand he's physically fine, he's a good, experienced driver of ours.''
All three vehicles involved in the crash were removed from the scene mid-afternoon and were taken away for analysis.
The road reopened at 3.45pm to all traffic although a signposted speed limit of 50 kilometres per hour is in place due to the fresh repairs to the highway.
- APNZ