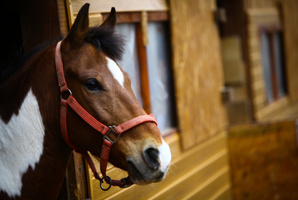 A casual musterer on a farm near Gisborne was flown to hospital after the horse he was riding died underneath him as they descended a steep hillside.
Emergency services were alerted about 11am yesterday.
The 69-year-old horseman suffered neck, head and facial injuries in the mishap, at Rere, 50km north-west of Gisborne. He was flown to Waikato Hospital after being assessed at Gisborne Hospital's emergency department.
"He suffered serious eye and facial injuries," a Gisborne hospital spokeswoman said.
A St John ambulance was sent to the property on Rere Settlement Road when the alarm was sounded.
"When the ambulance crew arrived they realised they would have difficulty getting to the patient," St John territory manager Shane Clapperton said.
"So it was decided it would be easier to call in the ECT rescue helicopter."
The horseman was thrown clear of his mount when the animal collapsed.
"The horse stopped where it dropped but the rider fell several metres, and landed in the bottom of a gully," chopper pilot Charlie Beetham said.
"It's not clear how long the rider may have lain there before he was found. He was unable to remember what happened when we spoke to him."
Mr Clapperton said it appeared the man lost consciousness as a result of his fall.
"It was a pretty rugged area," Mr Beetham said. "The two paramedics in the ambulance were ferried to the scene on quad bikes by farm workers, and then had to walk about 50 metres in to where the man was lying injured."
The rescue helicopter landed on a semi-flat part of the hillside near the man, Mr Beetham said.
"It was a good team effort by the farmers. They helped carry the paramedics' gear to the site of the accident then helped carry the man out to the helicopter."
- The Gisborne Herald