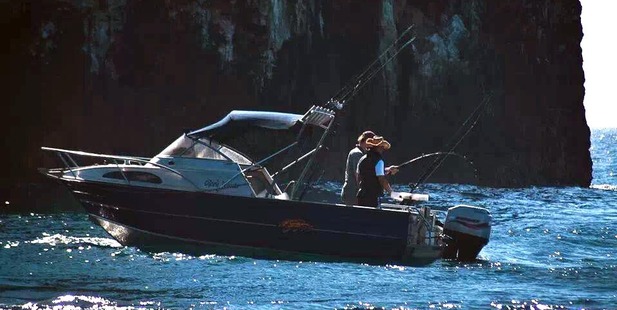 Two Auckland holidaymakers suspected of illegally fishing inside a Northland marine reserve could face charges.
The two men, who were yesterday found and spoken to by Department of Conservation rangers, were photographed fishing in a 5.8m runabout which sped away after a dive charter vessel crew took photographs of them at the Poor Knights Islands.
Kent Ericksen, a crew member of the dive boat from Tutukaka, said he saw the vessel on Saturday at the High Peaks (or Pinnacles) - an outlying outcrop of the Poor Knights Islands, which is in the reserve.
"I had divers in the water and was climbing on board when Mazurka's skipper Kevin Delonge said 'check this out' and it looked like they had some lines out.
"I looked through my camera and could see they were fishing and I whistled out to them ... I saw them look up, look at us and they seemed to carry on.
A rod was bent.
"Usually, people will move off when noticed, so I thought maybe they have not noticed so I jumped into the tender, fired up the motor and as I did, they took off.
"They were not at anchor, they had the motor running and were drifting.
"We moved to take our customers along the coast to the wreck of the HMNZS Waikato and as we came around the Pinnacles here they were on the other side and fishing again.
"Kevin altered course towards them and they took off again."
Mr Ericksen said that in his eight years of visiting the islands on multi-day trips he had seen a few people apparently fishing 800m off the reserve boundary. But this time, he estimated the boat was in a channel "well within the reserve" about 50m to 80m off the High Peaks rocks.
"Our thoughts are that the marine reserves work only if everybody respects them. If the system breaks down it's not fair on everybody else."
DoC Northland spokeswoman Marie Jordan said the two men who were on the vessel spotted were Auckland residents on holiday.
Their statements were taken yesterday and a decision would be made on what further action should be taken. Whether any charges would be laid would be up to her managers.
Ms Jordan said all boaties took an interest in monitoring what went on in the marine reserve.
"This was pretty blatant behaviour. It definitely shocked us," she said.
She praised the charter vessel's crew for their vigilance.
- Additional reporting Northern Advocate