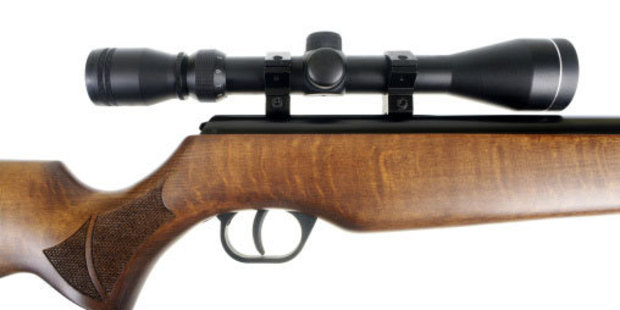 A teenager who allegedly used an air rifle to shoot a man in the back and another in the buttocks on different days outside a pizza store has appeared in court.
Shawn Michael Hawkins appeared at Hamilton District Court yesterday to face charges following two incidents on December 24 and Christmas Day when he allegedly shot two men outside a Pizza Hut store on Grey St in Hamilton East.
The 18-year-old, who lives at a Grey St property close to where the two incidents happened, is facing charges of injuring with reckless disregard and two of causing injury by carelessly using a Hatsan Mod 90 .177 calibre air rifle.
He is also facing a charge of possession of cannabis.
A 31-year-old Hamilton man, who had ordered a pizza and was waiting outside the store, described a searing pain in his back when he was shot on Christmas Eve.
The man's girlfriend saw the blood and told him he had been shot and they raced to Waikato Hospital emergency department. He passed out as doctors took x-rays and scans before dressing the wound and discharging him at 11pm.
The other man was standing outside the same pizza store and talking with a friend on Christmas Day when he was shot in the buttocks.
He was not badly hurt and was able to tell police the direction the shot was fired from.
Police arrested Hawkins not long after.
Hamilton police condemned Hawkins' actions at the time as "reckless" and extremely dangerous behaviour.
They said Hawkins' alleged shooting on Christmas Eve was not the only incident involving a firearm that night.
A 29-year-old woman was shot at as she was getting into her car outside a relative's house a block away on River Rd.
The woman moved her head as she heard a pop from behind and saw something fly past the left side of her head and towards the house.
Senior Sergeant Pete van de Wetering said yesterday the River Rd incident, which involved a paint ball gun, and the two shootings Hawkins was allegedly involved in were not linked.
He said that issue remained unresolved and police were still looking for the person who fired the shot.
Mr van de Wetering said despite another near-miss two days later on Ohaupo Rd, when a pedestrian was shot at from a passing car, he said there was no real cause for alarm.
"It's not a common thing. Unfortunately, it has happened a few times of late, however."
Hawkins was remanded and will reappear before the court on January 24.