Returning holidaymakers need to be patient and take extra care in expected heavy traffic, police caution.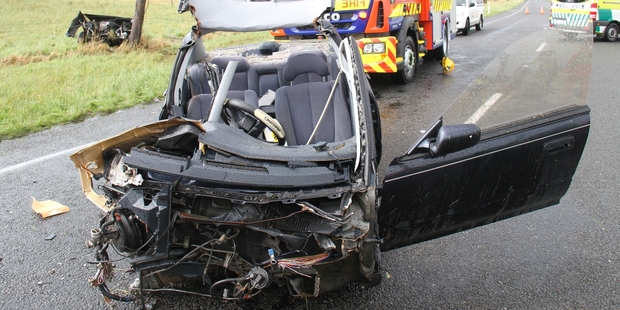 Motorists are being warned to take care as they make their way home from holiday destinations after four fatal crashes in as many days.
Three people were killed over the weekend, bringing the road toll for the new year to four - one fewer than for the same period last year.
Traffic is expected to be heavy today as holidaymakers continue to return home, and Assistant Commissioner of Road Policing Dave Cliff urged drivers to be patient.
He reminded drivers to turn headlights on, keep speed down and increase following distances, particularly on wet roads.
Drivers should also make sure the road ahead was clear before overtaking other traffic.
"Probably the most dangerous thing people will be doing is overtaking. Overtaking typically involves driving on the wrong side of the road at speed."
Police said one person was killed when a car crashed into a tree and burst into flames in the Bay of Plenty yesterday morning. The fatality came after two people died in separate crashes on Saturday, and a motorcyclist was killed on Thursday.
Mr Cliff said the new year's road toll was "a terrible waste of human life".
Yesterday's fatality was the second over the weekend where a car crashed into a tree.
The lone driver was dead when emergency services arrived at the scene on Thornton Rd, just north of Whakatane, about 6am, police said.
A 49-year-old woman passenger was airlifted to hospital with neck injuries after the SUV she was in ended upside down in a ditch at Whakaki, near Wairoa, around 11.30am yesterday, the Lowe Corporation Rescue Helicopter crew said.
Yesterday afternoon there were two crashes north of Wellsford, in Northland, which left three people injured and slowed south-bound traffic.
Two people sustained serious injuries and one suffered minor injuries in a two-car collision on the south side of Brynderwyn Hill. SH1 was closed in both directions and traffic diverted along the coastal route via Mangawhai and Waipu.
Shortly after clearing the scene, police attended a minor collision in the same vicinity.
Police and NZ Transport Agency said the diversion kept drivers moving. However, there were some complaints online and by email to the Herald, one person commenting that SH1 "ain't much fun", while another described traffic around the bottleneck area of Warkworth as "chaos".
"I live in Mangawhai and it usually takes 40 minutes to get from Warkworth to Mangawhai but it took like 1 hour 30 minutes to get back home. So it was a shocker."
Traffic flows into Auckland were steady and without major incident yesterday. The NZTA saying many holidaymakers returned home on Saturday.
On Saturday morning, Georgina Rawinia Rikiti, 38, died in hospital after the car she was driving crashed into a tree on Astley Ave in New Lynn, West Auckland.
About 10pm a man was killed when his motorcycle and a car collided on State Highway 1 near Taupiri in Waikato.
The car's occupants were treated for non-life-threatening injuries. APNZ