First account of a driver's heroic scramble to save the lives of a baby boy and relatives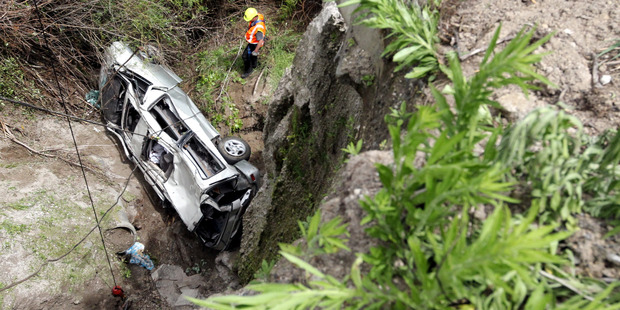 Clutching his unconscious baby nephew in one arm, and fighting the pain of his own injuries, Sandeep Singh grasped blackberry vines in a desperate attempt to scale a 15m-high cliff to safety.
The father-of-two's feet sunk into the soft, sandy soil, but he slowly made his way up to the Napier-Taupo highway, from which his van had tumbled off early Thursday, flipping several times before coming to rest with eight hurt people inside.
Before his heroic climb, Singh had scooped up 5-month-old Manmeet Singh as the baby's seriously injured parents cried out for their son, the only occupant found outside the van.
Seven of the eight occupants remained in Hawke's Bay Hospital last night, including 33-year-old Singh, recovering from back and internal injuries, his wife Barjit Kuar at his side, nephew Parnam Dadrah said yesterday.
Dadrah said Singh told family he "felt adrenaline and he had to get everyone out" after the crash.
"It was a steep cliff. He grabbed some blackberry bushes [to get up] - he's got some cuts on his hands."
Singh's brother Jagtar suffered a broken back and is at the Burwood Spinal Unit in Christchurch, while his sister-in-law Sukhwinder Kaur and 8-year-old niece are serious, but stable, in the high dependency unit at Hawke's Bay Hospital. The couple's other daughter, aged 9, is in a children's ward.
Manmeet is serious, but stable, in the intensive care unit but is already laughing again.
Manmeet, who had travelled to New Zealand from Melbourne with his family to be the golden boy at a traditional Punjabi festival, was initially listed as being in a critical condition. Dadrah said yesterday the baby was "moving around, smiling and laughing".
Doctors had praised Singh's efforts, Dadrah said.
"They were saying that people don't come out of those [crashes] alive. He feels proud."
Family were equally impressed.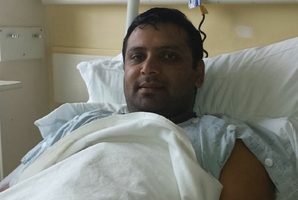 Singh's cousin, Vijay Singh, said he had spoken to Singh about the frantic moments following the crash. After climbing through the smashed windscreen, Singh rushed to help other family members.
"Everybody was jammed in there. He got everyone out. He was just scared, maybe the van might catch fire. Then he looked for the baby. It took a long time to find the baby."
Manmeet had a broken arm, and doctors said he had a little bleeding on his brain, but would recover, Vijay Singh said.
Singh said his cousin did not know why the crash happened.
"He said he was talking and suddenly one side of the van had gone up. Then right through to the end, spinning."
Senior Constable Bryan Farquharson, of the Eastern police district serious crash unit, said the van appeared to be out of control after drifting to the left. Singh appeared to overcorrect, causing the van to roll up to four times before plunging over the cliff "still spinning in the air".
It was too early to say if charges would be laid. A baby carseat was found at the scene, but it was not known if Manmeet had been strapped in.
Farquharson was impressed by Singh's efforts in climbing a "bloody great big dropout" to get help.
"It's extraordinary, because of the fact he's got these internal injuries, to have done what he did."