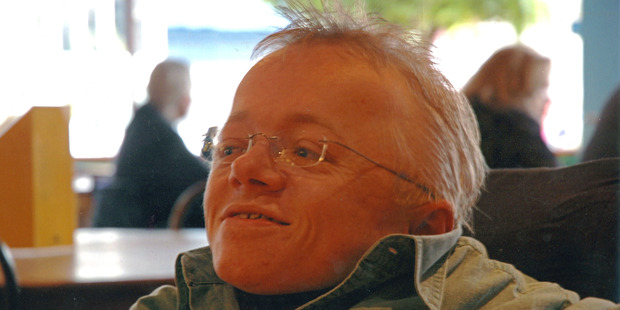 Journalist Peter Robert Douglas was wheelchair-bound all his life, but managed to achieve an awful lot in his tiny frame.
Born with rare osteogenesis imperfecta (brittle bones disease), the 35-year-old was not expected to live beyond a few days, but proved the prophets wrong.
Mr Douglas lost a short battle with cancer on Christmas Eve, passing away at the Nurse Maude Hospice in Christchurch.
His wicked sense of humour came through in a death notice posted in The Press, the newspaper that employed him for several years as a subeditor: "After 35 years, my wheels have fallen off."
In spite of his rare disability - Oamaru-born Mr Douglas excelled during his education at Waitaki Boys' High School, where he had been a school prefect and gained many awards.
He graduated from Otago University with a Bachelor of Arts (history) degree and gained a Diploma in Journalism from Canterbury University.
His father, Rob Douglas, said Peter was diagnosed with the rare disease following a heel prick blood test after he was found to have five broken bones despite a caesarian birth.
Babies born naturally with the disease often suffer severely crushed bones and died within a fortnight.
Mr Douglas said when surgeons told he and Peter's mother, Sue, that their baby was unlikely to survive beyond a fortnight, he looked at his newborn son and saw a child that was determined to survive.
That determination to "be somebody" became evident throughout his tragically short life. "He was a very determined young man," Mr Douglas said. "He was not about to let his disability get in the way of living."
He said Peter once told him: "I'm going to be somebody."
Mr Douglas said his son never grew more than 1 metre tall but managed to achieve many goals despite being confined to his wheelchair.
"He went to a Scout camp once and learnt to abseil with all the others."
Mr Douglas said Peter believed there were two types of people in the world - "Those who only see what I can do and those who only see what I can not. Neither will understand each other."
He said Peter was having difficulty breathing and was was diagnosed with a chest tumour about three months before his death and was cared for at the Nurse Maude Hospice in Christchurch until his death.
Little St Luke's Anglican Church in Oamaru was packed with colourfully dressed mourners for a thanksgiving service last Saturday after Mr Douglas left strict instructions that he should be cremated straight away and a service held later.
He'd also made known his wish that there should be no flowers and people attending his thanksgiving service were to wear "colourful informal dress".
Dozens of his many worldwide friends left bereavement messages on his Facebook page.
Longtime friend Rev Bernard Wilkinson paid tribute to Mr Douglas's "remarkable life" in a eulogy at the service.
"Medical support, especially from his orthopaedic surgeon, Colin Fitzpatrick, enabled him to enter fully into life around him, achieving a remarkable degree of educational success," Rev Wilkinson said.
"Without a doubt, the computer was his salvation, and he was a dab hand with them and always willing to share information."
************
Osteogenesis imperfecta
Osteogenesis imperfecta is an incurable genetic disorder characterised by fragile bones that break easily and is also known as brittle bone disease.
A person is born with the disorder and is affected throughout their lifetime.
Osteogenesis imperfecta affects an estimated four to five people per 100,000 births worldwide.
Some people have a more severe form of the condition. Their bones break easily and they may break hundreds of bones during their lives.
People with the disorder often have muscle weakness, hearing loss, fatigue, joint laxity, curved bones and short stature.