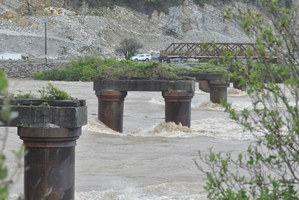 A Cobden man who evaded police by jumping into the Grey River after midnight on New Year's Day may face a hefty emergency services bill for his "crazy and diabolical actions".
The NZCC West Coast Rescue Helicopter combed the Grey River for about 40 minutes, searching for the 34-year-old before he was finally located on the Cobden Island, across the river from where he had jumped in, taunting the police who were on his tail.
Sergeant Matthew Frost, of Greymouth police, said the incident had unnecessarily taken up a lot of police, Coastguard and rescue helicopter time.
"This was a crazy and diabolical action, at great risk to himself and resulting in a huge amount of resources being called out," Mr Frost said.
He was unsure whether police would seek reparation for all the emergency services' time wasted but said they might.
The man, wanted for allegedly assaulting the female bar manager of the nearby Railway Hotel, had been tracked to the Greymouth floodwall by a police dog.
When the dog's handler called for him to surrender the man dived into the river yelling, "if you want me, come and get me".
He was quickly whisked downstream by the current and was heard by bystanders to yell, "I don't think I'm going to make it," before disappearing from view.
Rescue helicopter pilot Angus Taylor said they were summoned about 1.45am and flew up and down the river for some time but the powerful searchlights on the helicopter failed to locate the man, who was later found, cold and wet, by the police dog and handler.
He was arrested and charged with assault and escaping from police, but Mr Frost said further charges were pending.
The man's companion, a 24-year-old Cobden woman, was also charged with assaulting the bar manager, and disorderly behaviour.
- Greymouth Star