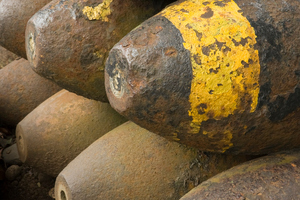 A West Auckland police station was evacuated this afternoon after a man brought in a suspected bomb he found buried in a garden.
It turned out it was actually a World War II training shell that was not explosive, but the Henderson Police Station was cordoned off for about an hour from 12.45pm before the all-clear was given.
Senior Sergeant Matt Broderick said the shell was shaped like a bullet and was 30cm long and 8cm-10cm wide.
About 20 police staff were moved outside when officers became concerned about it.
The station and road outside were cordoned off and the police bomb squad was called to examine the device and give the all-clear. The shell was taken away for disposal.
"It's better to treat these things seriously and just assume the worst until the experts turned up," Mr Broderick said.
"We're all back in our station now nice and quiet."
The man found the shell buried in a Henderson rental property garden he was preparing for new tenants. Often shells were taken home by military personnel, buried, and forgotten about, Mr Broderick said.
He urged people who find suspicious devices to leave them where they were and call police.
- APNZ