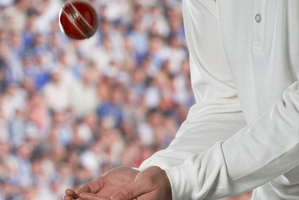 The promoters of a competition in which spectators can win $100,000 by catching a six are encouraging punters to take a safety-first approach.
Tui's promotion - Catch a Million - calls for spectators wearing branded shirts to catch a boundary with one hand for the six-figure payout.
But sloppy fielding by spectators in Auckland and Queenstown means they're yet to pay a cent.
"We're rubbing our hands together at the moment because no one has actually caught it, but we [do] want people to catch it because it's exciting for spectators," said Tui Breweries spokesman Simon Smith. "It brings that element back into cricket - it's sort of like winning Lotto and we're hoping spectators will get on board."
Mr Smith wanted a safety-first approach after recent games saw some spectators go to ridiculous lengths to snare the catch and the cash prize, crashing over advertising hoardings and falling down grass banks - one man left his infant child briefly to try and catch the ball.
Given there were 22 sixes in the New Zealand innings - 14 from Corey Anderson alone - people weren't short of chances in Queenstown on Wednesday.
Mr Smith said only one person could take home the $100,000 prize on offer at each of the Black Caps' 12 one-day games at home this year.