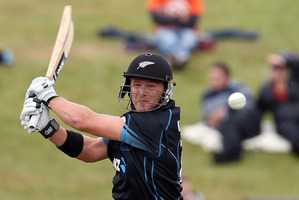 Corey Anderson's sensational display of power hitting came as no surprise to those who watched him destroy bowling attacks as a teenager.
The son of a New Zealand sprint representative and a top netballer, Anderson was a natural athlete who played in the First XI for Christchurch Boys' High School as a fourth former - just like big hitting Black Caps cricket star Chris Cairns.
"Corey was always capable of these big, massive shots even as a youngster because he was so strong and he always scored his runs quickly," said Stephen Dodds, the cricket co-ordinator at the top school.
He listened to radio commentary of Anderson's innings as he set a new world record for the fastest century, in just 36 balls, and said his former protege pulled off similar exploits as a prodigiously talented 13-year-old.
Anderson slayed bowling attacks around Christchurch as a third former and made the school's first XI in the first term of his fourth form year - a feat achieved only by former star allrounder Cairns in recent times.
Two years later Anderson made his debut for the senior Canterbury men's side at 16.
Mr Dodds said Anderson was big and had athletic genes - he's the son of former Commonwealth Games sprinter Grant Anderson and his mother, Linda, was a top netballer. He said his six-hitting ability was probably because he honed his athletic talents as the school's discus and javelin champion, and he had a good batting technique.
"He always had that power base that he got from athletics - as a rugby player he played number eight and he was very powerful and he would have made the First XV.
"But he had a passion for cricket, they lived just down the road from Boys' High and even when he was a little kid you would see him in there in the nets with his brother and the older kids.
"He was a good boy, a leader."
Anderson shared the limelight briefly with family members - including his mother and father - after the record-breaking match, posting a picture online.
Fans around the world applauded Anderson's efforts, including media personality Piers Morgan - injured by former Australian fast bowler Brett Lee in an attempt to inspire the English side - who posted "Boom!" #coreyanderson.