Latest daylight assault at Glendene park leaves 6-year-old traumatised and police extremely concerned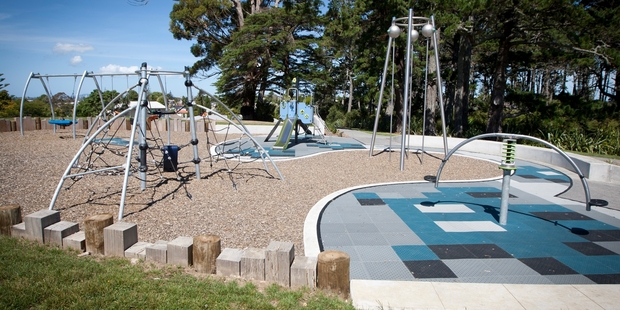 Can you help? If you have information about these attacks, contact Crimestoppers on 0800 555 111
Police are hunting two men after sex attacks on young girls in Auckland and say it is crucial they are found before they strike again.
In each case, the men struck up conversations with their young victims before assaulting them and it's likely both were seen by members of the public around the time of the attacks.
Police say there is no evidence to suggest the attacks are related, but it was "very important" both men were identified to prevent further or more serious incidents.
The most recent attack on New Year's Day left a 6-year-old girl in West Auckland traumatised and needing hospital treatment.
She was playing with two other children near the front of the Glendene Reserve on Glendene Ave about 8.20pm when a man approached them.
Detective Sergeant Peter Litherland said the man spoke briefly to the children, who started to walk away.
"As they attempted to leave the reserve the man grabbed the 6-year-old victim, carrying her further into the reserve near a creek and assaulting her.
"The young girl's screams were heard by her mother, who was nearby," Mr Litherland said. "Her mother ran to her and this caused the man to release the girl and run off into the reserve."
The little girl was treated at hospital for scratches she received during the attack.
The offender was described as a young, skinny Pacific Island or mixed-race man and it was likely he lives nearby.
"We need to identify this individual. He could try this again. It's very important we find him," police said.
The attacker left his white jandals, which may help identify him.
"We believe this man may live locally and family members might have noticed him arriving home in wet clothing and barefoot at around 9pm [on Wednesday]. We're hopeful that anyone who was in the area can think back to what they were doing and whether they saw someone of this description."
There is no evidence to link the suspect to a second attack on a 14-year-old girl in Avondale on November 25. Police released an identikit sketch of the man on Christmas Eve.
The girl was walking along Ash St when a man began following her. He introduced himself and said he was 17, and tried to sexually assault her.
Detective Constable James Copeland said the teenager described her attacker as muscular with crooked teeth.
He was wearing a feather-type earring in one ear, mustard coloured jeans that were tight around the calves and loose on the thighs, a white singlet and white Air Jordan shoes.
- Additional reporting: APNZ