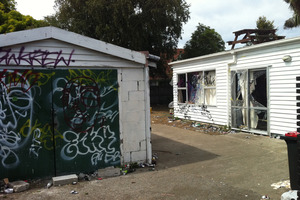 A New Year's Eve party that destroyed a Christchurch flat spiralled out of control after it was promoted on Facebook.
The 12-hour party was shut down by police in full riot gear shortly before midnight after a tenant finally called them in. When the officers arrived at the "large-scale disorder" in Frankleigh St, Spreydon, beer bottles were hurled at them.
Two arrests were made and six on-the-spot fines handed out. The young tenants now have the unenviable task of explaining the damage to their landlords, who are out of town.
The flat was left barely habitable, with every window smashed, graffiti scrawled over walls inside and out, and large holes in interior walls.
Hundreds of broken bottles and crushed cans were strewn about the yard. Pools of blood and blood trails led up the drive.
Party co-host Hemi Carstairs blamed Facebook for spreading the message beyond his group of friends.
"It was a mean night until it got out of hand then people started getting out of control, breaking the windows," he told Newstalk ZB.
The house was owned by the father of another of the party's organisers, Taylor Te Kata, who told 3News he had yet to see his dad's reaction.
One neighbour said she had phoned police earlier in the night as the party escalated.
"It was turning ugly pretty early on," said the woman, who did not wish to be named. "They were all pretty young and just going crazy, screaming, shouting, loud music, smashing bottles.
"They just kept coming. There were hundreds of them."
Police tried for nearly an hour to get a warrant to enter the property before one of the tenants phoned.
Overall, it was a quiet night for police around the country. Revellers in Auckland, Wellington and Dunedin were reasonably well behaved, police said, with no major incidents.
Bay of Plenty saw the New Year in peacefully with just a minority causing concern, while Waikato police said celebrations in Whangamata were trouble-free.
- APNZ