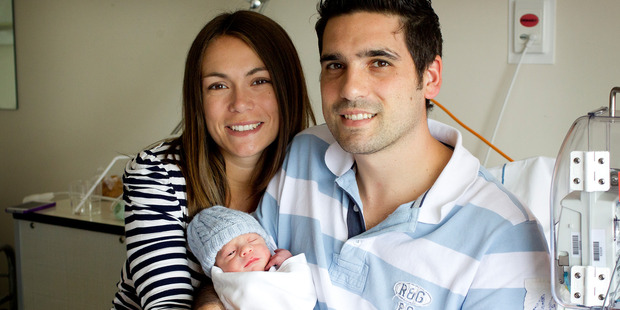 The parents of a baby among the first to be born in New Zealand this year say the extent of their celebrations will be to head to bed for some much-needed sleep.
Oliver George Merola was born at 12.10am at Waikato Hospital yesterday weighing 2.47kg, five weeks earlier than expected due to complications.
Proud parents Sian and Joe Merola spoke to the Herald as their baby returned to neo-natal intensive care. "He's not bad considering how early he is," said mum Sian, herself a GP.
The couple, who moved to New Zealand from Wales three years ago, hoped their son would grow up to be a "proper little Kiwi kid" who was happy and healthy.
The first baby of 2014 was a girl, Mary, delivered at 12.01am, whose parents chose not to be interviewed.
The new arrivals come as higher birth rates and fewer deaths among non-European New Zealanders change population ethnicity.
Massey University sociologist Paul Spoonley said European Kiwis would lose majority status in Auckland in the next few years to the combined populations of Asians, Maori and Pacific Islanders.
The latest Census shows the Asian population of 471,711 had jumped from 6.6 per cent of the total in 2001 to 11.8 per cent; nearly one in four in Auckland were of Asian descent.
Dr Spoonley said Asians would outnumber Maori to become the second-biggest ethnic group in New Zealand in the next decade.
European New Zealand births are expected to fall from 43,600 in 2011 to 40,800 by 2026, according to Statistics New Zealand projections.
An ageing population will also see deaths of European Kiwis rise from 25,400 to 30,700, while births of Maori, Asian and Pacific babies will increase from 36,500 to 40,900.
The younger age of immigrants explains the higher birth rates when compared to European Kiwis. Additional reporting: Harkanwal Singh