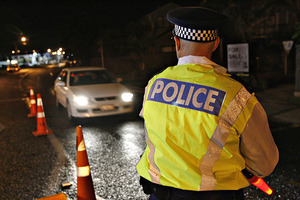 A woman has been charged after allegedly driving at nearly four times the legal alcohol limit.
Around 6.30pm yesterday, Waitemata Police received a call on the *555 line from a man who was following a car driving erratically along the Coatesville Riverhead Highway, north of Auckland.
The car was heading towards Albany and was seen to be swerving into other lanes and driving off the shoulder of the road, police said. Two primary-school aged children were in the car.
The car pulled into the driveway of a residential address and police arrived.
The 29-year-old driver was breath-tested, and the result was allegedly a breath alcohol level of 1568mcg, nearly four times the legal limit, police said.
"Thanks to this man alerting police we've been able to take an incredibly dangerous driver off our roads,'' said Inspector Mark Fergus, Road Policing Manager, Waitemata Police.
"This is a great example of the public working with police to keep our communities safer.''
The woman's licence has been suspended for 28 days and she will appear in the Waitakere District Court on January 23 charged with driving with excess breath alcohol.
"It's incredibly frustrating for police when anyone drinks alcohol and then drives, but it's even more gut-wrenching when we see breath alcohol recordings as high as this ... We need to get these people off our roads'' Inspector Fergus said.
- APNZ