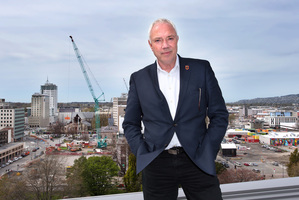 Sir Bob Parker's father has passed away today, just hours after his son, the former Christchurch mayor, was awarded a knighthood.
Robert Parker Snr, 86, had been gravely ill with cancer in a Christchurch hospice for some time.
He passed away around noon today. He is survived by his wife Audrey.
Earlier today, Sir Bob said his knighthood had come at a special and difficult time, as he farewelled his father.
It was particularly humbling to reveal the news to his dad, he said.
"My dad is at the end of his journey, so for him it has been something very special," Sir Bob said.
"As a son, to be able to give this to my dad at the end of his life - it's way beyond words to describe the sense of humility and the feeling of pride to tell him this has happened, and to see that it meant so much to him."
Sir Bob said he never expected the honour, which he views as a tribute to those he worked alongside, particularly in the aftermath of the Canterbury earthquakes.
"It's a tribute to council staff who ran Civil Defence and the infrastructure work we did, it's for Usar [Urban Search and Rescue], defence forces, emergency services, volunteers and the whole community."
His 22 years in local government, including two terms as Mayor of Banks Peninsula and two terms as Christchurch Mayor, had many memorable moments.
None were more defining than the devastating Canterbury earthquakes, and his role as the public face of the disaster response. "It was a traumatic and difficult and testing time, and still is for many people," Sir Bob said.
"To be in that position that I was in and have the opportunity to see so much generosity and so much courage in the midst of so much pain was a unique experience and something that will always be part of us - all of us who went through it."
Sir Bob did not run for re-election in this year's local body polls.
He was proud of his mayoralty, and said that given the scale of the "unprecedented disaster", some controversies were inevitable.
"But we've left the city in a solid state in terms of its ability to meet the needs of its community in the future."
Mayor of Christchurch Lianne Dalziel today congratulated Sir Bob, saying that his New Year Honour will be well-received by the city as a whole.
"Sir Bob's performance after the first earthquake in particular, something we were not really prepared for, will always stand out in my mind as going beyond the call of duty," she said.
"His authoritative voice offering reliable information, delivered in such a reassuring manner at our time of need, is what people will always remember.
"That's precisely what people needed at the time and he delivered all of that and more," Mayor Dalziel said.
Since stepping down, Sir Bob said, he had taken a long holiday with his wife, Lady Joanna Nicholls-Parker.
"We were a team supporting each other and I'm really thrilled that Joanna, by virtue of this honour, gets to share in it a bit as well."
Before entering local government, Sir Bob had a successful broadcasting career.
- APNZ