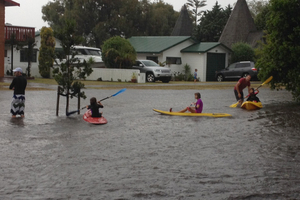 Heavy rain and thunderstorms are expected to hit western parts of Auckland and Taranaki later today but skies will clear in time for New Year's Eve, weather forecasters predict.
Torrential rain sent campers on the Coromandel fleeing to higher ground yesterday, with the rain continuing overnight.
The fierce deluge sent slips across roads, left rivers swollen and had many residents along the peninsula's eastern coast cleaning up flooded sections and streets, at a time when visitor numbers at the summer destination were at their peak.
Whitianga recorded 120mm of rain in 24 hours _ more than the average monthly rainfall, MetService spokesman Daniel Corbett said.
However, the front was weakening as it headed east towards Gisborne, he said.
Heavy rain also fell overnight on the Kaimai Ranges, Tauranga and Whangaparoa, and rain and thunder would hit western parts of Auckland and Taranaki this afternoon.
"It's not been great for the holidaymakers. But it can't rain forever ... a few more showers and some thunder today but a bit of a drier prospect tomorrow," Mr Corbett said.
Whitianga Campground camp leader Grant Jonas said people had been cancelling their bookings after seeing media coverage of the deluge.
Parts of Cooks Beach camping ground and other parts further down the Coromandel coast had been waist-deep with flooding, but not everywhere had been affected, he said.
"It's a bit overkill for us.''
The most sodden areas were now closer to Tauranga, he said.
Pauanui Glade Holiday Park manager Trieve Andrew said campers were in good spirits today.
Only one family had packed up and left when their tent was flooded, but the rest were carrying on with their holiday.
"All the driveways were flooded but the kids just got their canoes and their wetsuits out and swam.''
Thames Valley Civil Defence manager Gary Talbot said once the rain stopped last night, everything was "good as gold''.
"Most of the flooding was low-level flooding in the campgrounds so if you were in a tent you got wet. Once the rain stopped, the water went away.''
There were no road closures or damage, he said.
Downpours and flooding haven't been the only extreme holiday weather this season.
A tornado blew through Papamoa Beach outside Tauranga yesterday morning, causing damage to house roofs.
Papamoa Fire Service spokesman Allan Bicker said the clean-up had gone well and the damage was minimal.
"There were tiles off roofs but we replaced the tiles, and those who had broken tiles just covered them with tarpaulins."
Apart from surface flooding, there was little other damage, he said.