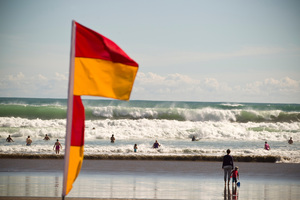 Patchy weather may be keeping large crowds away from popular surf beaches so far this summer, but lifeguards say they are likely to get busier as holidaymakers arrive and the weather improves.
Surf life savers have reported no major incidents and no shark sightings today at Mangawhai, Muriwai, Piha, Whangamata and Mt Maunganui.
Whangamata head guard Mitch Jensen said it had been quiet due to the weather, but had slowly been getting busier since patrols started last week.
"We're just waiting on a bit of sunshine. I think everyone will come. There's certainly people in town - they're just not on the beach yet.''
Mangawhai patrol captain Tim Gibb said it had been a quiet day, with only 200 people at the beach due to overcast, showery weather.
When better weather and New Year's Eve holidaymakers arrived, that number would more than double.
Mt Maunganui head lifeguard James Roy said it had been a fairly quiet season overall, with only two rescues last week and a couple of minor first aid responses.
There were about 200 people on the main beach and 1000 down the coast while the sun was out this morning, but when the rain set in by mid-afternoon, there were only about 12 people left.
"The weather just hasn't been good enough for people to come out.''
Piha patrol captain Marcus Bedford said there were about 500 people on the beach today - far less than the 2000 they usually had on a very hot day - but there had been no rescues.
"It was raining this morning - we were almost going to call a foul weather patrol. But it fined up.''
At Muriwai, first aid officer Oliver Tyack said the week leading up to Christmas had been very quiet. There were only 115 people at the beach today, due to chunky surf and cloudy weather.
Over summer, about 4000 volunteer lifeguards will spend more than 200,000 hours keeping a watchful eye on some 80 beaches throughout the country.
Surf Life Saving NZ chief executive Paul Dalton urged people to know their limits and to always swim between the flags.
There have been 77 drowning deaths this year as of Monday, compared with 98 in total last year, according to Water Safety NZ.
- APNZ