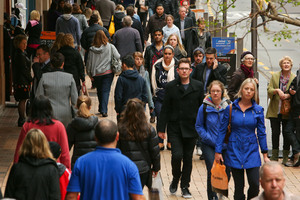 New Zealand has become a melting pot of more than 200 different ethnicities, most of us are pretty happy with our lives and we love bananas, a year of Government surveys has taught us.
Officially 2013 was the International Year of Statistics, so it was fitting that our first census in seven years was carried out, along with a host of other studies, to get to grips with what life is like in the 21st century.
The census, postponed from 2011 after the Canterbury earthquakes, showed New Zealand has become a melting pot of different ethnicities and cultures, with a quarter of the population born overseas. The number of Asian ethnic groups have doubled since 2001, and Hindi has overtaken French to become the fourth most spoken language, behind English, Te Reo and Samoan.
A national census was a "major tool" for telling the story of a country, Government statistician Liz MacPherson said.
"Census information helps create a picture of New Zealand communities and provides an important snapshot of us as a country, where we live, who we are, what we do for work, where we go to school and so on," she said.
"Statistics are more than just numbers - they help to inform decision making across all levels of society, from economic and employment areas through to social and environmental matters.
This year Statistics New Zealand (SNZ) also released the results from the General Society Survey; a study of social and economic well-being.
It showed 87 per cent of Kiwis were satisfied or very satisfied with their lives - a figure above the OECD average.
Of those surveyed, one-fifth said they were in good health, had enough money, good housing and did not feel lonely.
One of the more unusual discoveries SNZ sifted from its data this year was that Kiwi households spend more on bananas than on any other fruit, with an average spend of $88 a year. It's the equivalent of each New Zealander importing 18kg of the popular snack every year, or roughly two bananas a week.
The year ahead promises to be just as fact-filled, with more census data due to be released - housing, culture and identity, and iwi profiles are among the results still to be made public.
The results of Te Kupenga, a survey of Maori well-being, and the New Zealand Disability Survey, which were also carried out during 2013, will be released next year.
SNZ has also been delving into the archives to compare 2013 with 1913.
Ethnicity data wasn't collected 100 years ago, but records show that among the 1.4 million-strong population, 44,588 people had moved to New Zealand from the United Kingdom, Australia, and other countries, Ms MacPherson said.
In those days it was almost as tough getting through customs and immigration as it is now.
"The Immigration Restriction Act prohibits the landing of lunatics or idiots, persons suffering from a dangerous or loathsome contagious disease, certain convicted criminals, and any person other than of British birth who fails to write out and sign, in any European language, a prescribed form of application," records from the time say.
- APNZ