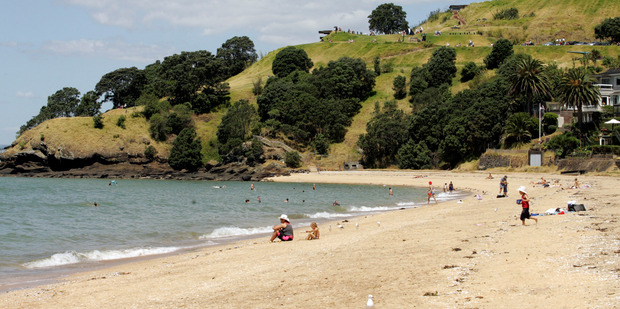 Severe thunderstorms have prompted a warning to residents in parts of the Bay of Plenty tonight.
The MetService has issued a severe thunderstorm warning for Western Bay of Plenty, Whakatane, Kawerau and Rotorua.
It said the thunderstorms were moving north and were expected to lie near Kawerau, Rotoehu and Rotoiti shortly before 6.40pm and near Rotoehu and Pikowai shortly before 7.10pm.
The MetService said the storms were expected to be accompanied by torrential rain which could cause surface and flash flooding about streams, gullies and urban areas, and make driving conditions extremely hazardous.
Severe thunderstorm watches remain in place for Bay of Plenty, Gisborne, Hawkes Bay, Rotorua, Taihape, Taranaki, Taumarunui, Taupo, Waikato and Waitomo.
Meanwhile, the weather around New Year's Day could be unsettled but is likely to be drier than Christmas, a long-range model suggests.
WeatherWatch's computer model has predicted very similar weather to Christmas Day, but said it is still too soon for a region-by-region breakdown.
Head analyst Philip Duncan said New Year's Eve often had similar weather to Christmas Day.
"It looks a little unsettled again, with another front coming in and another cooler southwesterly wind-flow across the country.
"But I think it will be drier than Christmas Day was.''
For the upper North Island, the last day of the year could be mostly dry with cloudy periods and a coolish southwesterly wind. By the New Year, the weather might get warmer ahead of more rain around January 2 or the next day.
Eastern areas could be fine but it could be cooler in the south, with rain possible in the West Coast and Southland.
MetService meteorologist John Law said it was still too soon to predict the weather for New Year's Day.
However, the models showed a northerly flow for New Year's Eve, with a few showers in the Far North. In Auckland, there was a chance of a few showers and further south, there could still be a fair bit of rain.
Popular holiday spots should get a decent dose of sunshine tomorrow, but showers and rain could put a dampener on the weekend for many.
Mr Law said the Bay of Islands would be the place to be in the North Island tomorrow, with some "nice spells of sunshine".
"It's not out of the question we'll catch an isolated shower, but hopefully not too bad for those guys as we head through into Friday."
The weather was also looking good for the Bay of Plenty and Coromandel, with fine spells and the odd shower tomorrow.
But the rain could become more frequent during the weekend as a low developed over the north and west of the country, bringing wet weather, particular to the north through to the Bay of Plenty.
"So it's definitely a forecast to keep an eye on if you're planning to head outside at the weekend."
Further south, Taupo was likely to be showery tomorrow with the chance of thunderstorms, and a rainy weekend.
South Island holiday spots were likely to get better weather. It would be fine tomorrow in Queenstown and Aoraki/Mt Cook, followed by some cloud and showers over the weekend.
Mr Law said today had brought cloudy, grey weather to the east of the country and showers in the central North Island. The Bay of Plenty and Coromandel had southwesterlies, while Auckland had isolated showers.
The place to be today was the West Coast of the South Island.
"It looks as though they've got some nice weather and some pretty decent temperatures too."
In Greymouth, the weather was fine and the temperature was 20C by mid-afternoon - not as hot as Nelson's 23.5C, but less overcast.
HOLIDAY HOTSPOTS:
Paihia, Bay of Islands: A decent day tomorrow with sunshine, fairly light winds and a high of 22C in the afternoon. Wetter weather on Saturday, with fresh northeasterlies, improving through Sunday but wet at times.
Mangawhai, Northland: A few isolated showers tomorrow. A few more on Saturday, with rain towards the end of the day and more wet weather on Sunday.
Mt Maunganui, Bay of Plenty: Nice spells of sunshine tomorrow morning, with the odd shower in the afternoon and a high of about 24C. A few showers on Saturday, becoming more frequent, with heavier rain on Sunday.
Whitianga, Coromandel: Western Coromandel would likely get the most showers tomorrow, but on the east, Whitianga should have fine spells and perhaps the odd afternoon shower. Showers developing on Saturday, with heavy rain by Sunday and highs of about 23C.
Whangamata, Coromandel: Isolated showers tomorrow, particularly in the afternoon. Showers over the weekend, getting heavier on Sunday.
Taupo: Showery tomorrow, with some fairly heavy, perhaps thundery, in the afternoon. Rain will push through over the weekend, particularly on Sunday, with highs up to 22C.
Queenstown: A decent day tomorrow with fine, dry weather, followed by a fine day on Saturday with some cloud. On Sunday there would be a touch more cloud and the odd shower. Highs of up to 23C.
Aoraki/Mt Cook: A fine day tomorrow with a touch more cloud later and a few spots of drizzle. More cloud and a few afternoon showers on Saturday, followed by more persistent showers on Sunday.