Businessman felled by hurled glass jug while trying to quell stoush over arm-wrestle result.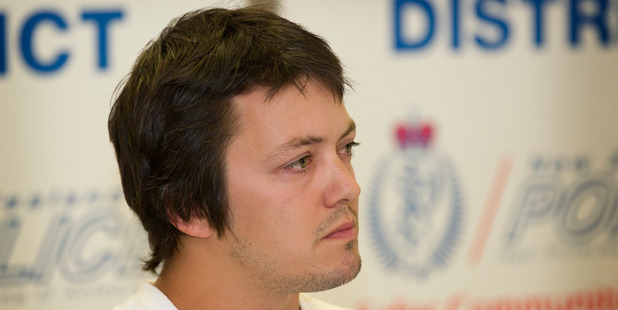 The family of a man lying critically injured in hospital after being hit in the head with a super-sized beer jug say their father is a "good bugger" and they are distraught at what's happened.
Trevor Cochrane's son-in-law Matthew Bloxham said the Hamilton businessman is a "fun-loving, happy guy" but is also "a sensible old boy".
"He would always try to diffuse a situation if it was getting out of hand."
Mr Cochrane, 55, stepped into a drunken argument between one of his Dinsdale Drywall employees and another patron at the Still Working Bar on Friday night after a dispute erupted over who had won an arm-wrestle.
"It is characteristic of who he is that he has suffered these injuries trying to do the right thing and stop what was occurring."
A 2 litre glass super jug was thrown into the group, hitting Mr Cochrane in the back of the head and knocking him to the ground, starting a brawl between the two groups who were having Christmas drinks at the Chartwell bar.
Mr Bloxham said the family, including Mr Cochrane's partner and two pregnant daughters, were trying to come to terms with the fact their father was in hospital fighting for his life, and at Christmas.
"He's still in critical condition so we're hoping for the best. Everyone's pretty stressed out. We've got a lot going on. And both the daughters are expecting children in February as well so we're just hoping he comes to so he can see his grandchildren."
An older grand-daughter was being shielded from the trauma and remained in Tauranga.
"Everybody else comes first with him. He's real generous, real caring, top man really. He's more of a good mate than a father-in-law really. Trevor is a warm, friendly but private person who would shy away from all the publicity if he was in a position to do so."
Mr Bloxham said Mr Cochrane's two daughters, aged in their early 20s, were too upset to speak to media.
The Herald understands one of the daughters, Sam, helped run his large and successful plastering business and had worked as a gib-stopper for her father for a number of years.
Mr Bloxham urged witnesses to the incident to come forward and also pleaded with the public to "take it easy" over Christmas.
"Think about your actions before you do them because they don't just affect one person."
He called his father-in-law an "independent, hardworking Kiwi bloke" who was just at the bar to celebrate the festive season with employees and family.
"When people drink, one wrong word or action can have irreversible consequences and we ask all those people out there to think how they drink lest they too have to face what our family are facing now."
Police have arrested and charged a 23-year-old man with wounding with reckless disregard however Detective Senior Sergeant Mark Greene of the Waikato CIB said Mr Cochrane's life and that of his family had changed in an instant and he urged more witnesses to the incident to come forward.