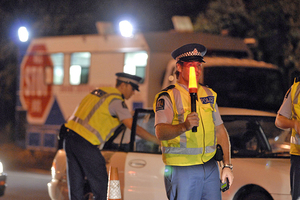 Police in Otago have already wielded new powers aimed at curbing alcohol-related disorder, with at least three people in the region given infringement notices for breaching alcohol bans.
The infringement notices come after the Sale and Supply of Alcohol Act was introduced last week.
Despite the Friday before Christmas traditionally being one of the busiest nights of the year for drunken disorder, police and emergency services across the region said it was relatively quiet.
An Englishwoman and a Canadian woman aged in their late 20s unwittingly became the first people in Queenstown to be punished by the new national alcohol laws, on Friday at 11.25pm.
Sergeant Steve Watt, of Queenstown, said yesterday the "unco-operative and belligerent" women were both arrested for breaching the downtown liquor ban after they refused to hand over their alcohol or give details to police.
The women were fined $250 each.
"They are a good example of the changes in action in Queenstown. Extra powers for police gives us a wide variety of tools to deal with offences and the people who offend," Mr Watt said.
The only other alcohol-related offences in the Wakatipu area over the weekend involved alleged 18-year-old male drink-drivers. Police issued their first infringement notice for breaching the Oamaru liquor ban, a 20-year-old Oamaru man receiving a $250 instant fine for having alcohol in Thames St about 10.20pm on Friday.
Despite a busy Friday night in Wanaka, and a large number of Christmas functions, police had only a couple of minor disorder-related incidents to deal with, Constable Dion Phair said.
"On the whole the word's starting to get around [the bars] and people are being refused entry because of intoxication levels...
"I think the general behaviour's been pretty good and it seems like the duty managers in the pubs have been on board with it as well."
The new laws gave bar staff "more ammunition" to deny people entry or service, Mr Phair said.
"The definition of intoxication and the ability to identify who's intoxicated and who's not has been more clearly defined for both us and them."
St John Ambulance southern region operations manager Doug Third said Friday night was relatively incident-free in Dunedin, but it was too early to say what impact the new alcohol laws were having.
However, any measures which reduced alcohol-related harm and made it easier for emergency services staff were a good thing, Mr Third said.