An ever-growing number of the world's mega rich are choosing to berth their luxury craft at Auckland's Viaduct Harbour. The Herald has walked the docks to catalogue the opulent visitors to the City of Sails.
Auckland's waterfront is increasingly playing host to multi-million-dollar super yachts owned by the world's mega rich.
In the past week, Herald photographers snapped nine of the vessels berthed in the City of Sails, which has quickly been adapting to cater for the wealthy clientele.
Two 90m docks and two 65m pontoons were added to the marina this year, each with a 1m freeboard, making them the biggest in New Zealand.
Another 60m berth was added next to a site occupied by the New Zealand company Southern Spas and the additions mean Silo Marina can now take 13 boats - double its capacity since it opened for business before the Rugby World Cup in 2011.
Waterfront Auckland marina manager Luke Wigglesworth said the facility had its biggest month in November in terms of revenue and boat tonnage, and demand was expected to be high for the Southern Hemisphere summer.
"Each super yacht that bases itself in Auckland is estimated to contribute $2 million to $3 million to the Auckland economy," he said.
The publicly owned marina is surrounded by a number of local companies that service the vessels.
Yachts take two years to build and can cost between $10 million and $100 million.
Every five years or so, boats have a major refit, a process costing anywhere from $500,000 to $30 million.
Mr Wigglesworth said steps were in place to make Auckland a destination for super yachts to base themselves and run cruising charters.
1 Mega yacht 'A'
One of the biggest to berth in NZ, with an interior almost 15 times that of an average house.
Owned by Russian Andrey Melnichenko, who has a fortune estimated at $17.5 billion.
Designed by Philippe Starck, the 119m vessel features mirrored rooms and a guest suite lined with white stingray skins.
Its 240sq m master suite incorporates bomb-proof glass and is opened only by a fingerprint pad.
The megayacht "A" that slipped into Auckland today is believed to be the biggest to ever berth in New Zealand, with interior space almost 15 times the size of an average house. The distinctive vessel is owned by Russian Andrey Melnichenko, who has a fortune estimated to be $17.2 billion, and is in Auckland for maintenance ahead of cruising in summer. Video courtesy Greg Bowker.
2 The Lady Christine
The 68 metre-long vessel is owned by one of Britain's richest businessman, Lord Irvine Laidlaw, said to be worth $1.4 billion.
He is one of the richest financial backers of the British Conservative Party and bankroller of London Mayor Boris Johnson.
The yacht is named after his wife, with whom the British press reports he is on a "slow world tour".
The boat is known for its interior, notably its dining/bar layout, split level decks, cinema room, 360-degree views, Teppanyaki grill and a pizza oven.

3 SuRi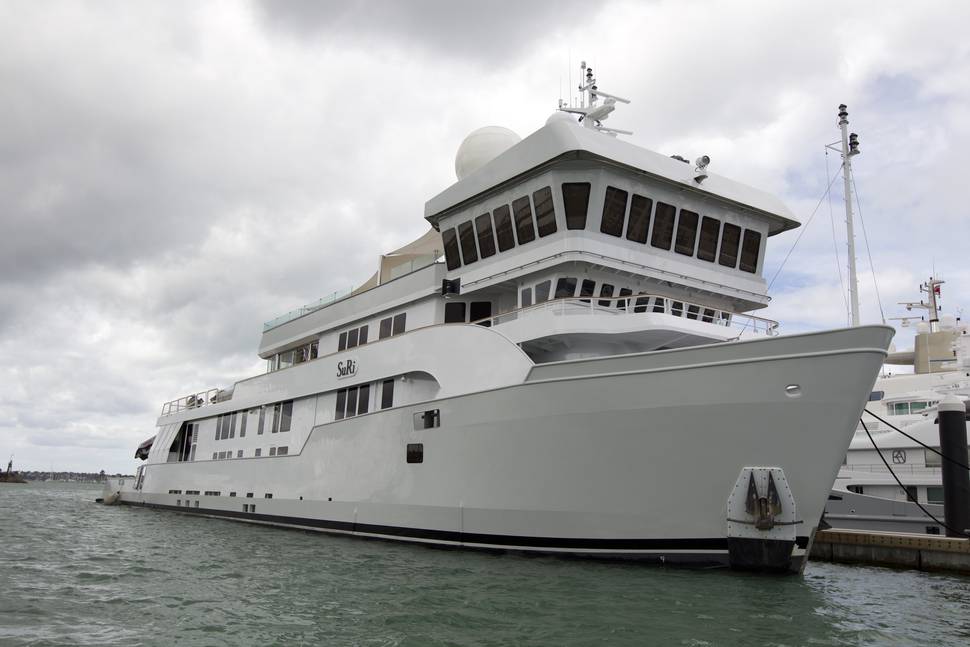 The 63m "support vehicle" has just been extended by 11m in San Francisco and is now available for charter from $457,000 a week, plus expenses.
It has luxurious interior design, including sprawling living spaces and entertaining areas.
It also houses a catalogue of water sports toys including a helicopter, hover craft, speedboat, sea plane, jet-skis, sailboats, kayaks, dive gear, ski equipment and many others.
4 ArcticP
Owned by Australian billionaire James Packer, the 87.5m superyacht is the 50th largest yacht in the world.
Has hosted celebrities such as Tom Cruise, Nicole Kidman and Katie Holmes.
Packer, a casino mogul from a media dynasty, is estimated to be worth $7.8 billion and has been romantically linked to model Miranda Kerr in recent months.
The boat was custom-built for his father, Kerry Packer, in 1969 by Schichau Unterwesser in Germany and it can accommodate up to 12 guests and 25 crew in "a relaxed luxury yacht experience".

5 Alchemy
The 40.51m yacht was built in 1970 by Dutch company Feadship-Van Lent.
It can accommodate up to eight guests and six crew members.
Last refitted in 2008, it has ultra-modern technology including a stabilisation system which reduces roll motion effect.
The boat can reach a top speed of 17 knots, and comfortably cruises at 14 knots. Its maximum range is 4031 nautical miles.
6 Alani II
The 34.95m boat was built by Italian company Benetti Yachts in 2002.
It has room for up to 12 guests overnight in eight cabins, including a master suite, one VIP stateroom, three double cabins and two twin cabins.
Alani II is capable of a top speed of 17.5 knots, and comfortably cruises at 13 knots and has a maximum range of around 3300 nautical miles.
A New Zealand woman staying on the boat died in Fiji in 2011.
7 Mondango 3
Built by New Zealand company Alloy Yachts, the 56m vessel is due to be launched in February.
It can sleep up to 11 guests in five staterooms, plus nine crew in separate quarters.
It is listed as costing $326,900 a week plus expenses to charter. Luxurious features include spa pools, impressive interior design and 103-inch televisions.

8 Ethereal
The 58m Ron Holland- designed ketch Ethereal, with interior and exterior styling by Pieter Beeldsnijder, took to the water in 2008.
It is owned by Americans Bill and Shannon Joy, a computer scientist and artist who also run marine conservation charity, the Joy Foundation.
The boat is energy-efficient and uses the latest technology to reduce its carbon footprint.
Opulent features include near-cinema-sized flat screen TVs, a music den featuring a piano and an ensemble of percussion instruments, and touch-pad controls.
9 Plan B
Built in 2011 by shipbuilding group Abu Dhabi MAR, Plan B costs $917,000 a week plus expenses to charter and can sleep 12 guests in eight luxury staterooms, plus 20 crew members.
Features include an on-deck gym, spa, helipad and luxurious white and cream leather and silk interiors.
The boat is reportedly owned by computer hardware company Gateway founder Ted Waitt. The billionaire has been named one of America's most charitable philanthropists through the Waitt Foundation.