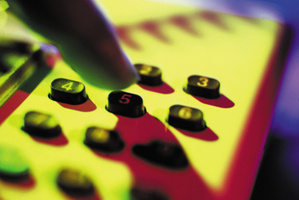 Scammers overseas posing as Immigration New Zealand officials have fleeced at least a dozen Kiwis out of more than $23,000, prompting a plea from police for people to be smart about giving away hard-earned cash.
Police in Auckland have had 12 complaints from scam victims, but they say it's likely to be much more widespread.
Detective Senior Sergeant Aaron Pascoe said the scam involved a person calling from what appeared to be a New Zealand phone number and identifying themselves as an employee of Immigration NZ.
They say the victim has incurred a fine during a recent trip to their birth country, often India, and must pay Immigration as soon as possible through an international remittance agent such as Western Union.
In all the cases reported to police, the victims have been told to pay between $900 and $1000.
Mr Pascoe said it was easy for overseas scammers to set up phone numbers that appeared to be local.
"This is an international scam, but there's not a great deal we can do about it."
Another woman contacted this week did not pay.
"He claimed that last time when I went to my home country, India, I had my date of birth entered incorrectly - 1868 instead of 1968 on the arrival card," the woman said.
The scammer said Indian authorities had lodged an "infringement case" against her for the mistake and Immigration was trying to sort it out.
"He said to resolve this I have to pay $969 immediately," she said. "Failing to do so, I will be deported to India within a couple of hours.
"When I asked him to provide more details, or a proof of my arrival card that I entered incorrectly, he said he can only give it to me if I pay. I refused."
Immigration became aware of the scam in October, said area manager Michael Carley.
Since then the agency had received 130 complaints, although only 11 people had paid the money.
"These calls seem to be targeting people from India. Often the caller has some details of the person they are speaking to, such as the name, date of birth and/or address.
They may also quote reference numbers, although these do not appear to match Immigration NZ client or application numbers."
Mr Carley advised people not to pay any money if they were contacted, and to notify the police.
Mr Pascoe said it was unlikely anyone within the agency was involved.
Phone caller had victim's personal details
Kaur Roopinder was terrified she would be arrested and deported when she decided to pay almost $1000 to a scammer posing as an Immigration New Zealand worker.
She was called on Thursday and told that she had filled out paperwork incorrectly on her last trip back to India.
The scammer knew her date of birth, full name and details of her immigration applications.
"He was pretty aware of my case, so I thought I could definitely trust this person," Mrs Roopinder said.
She was reluctant to pay the "fine" the scammer was demanding until he started to threaten her.
"He said to me either pay and clear your fine or we'll come and take you away. We will arrest you and deport you right now."
Worried that would happen, she transferred the money to an account - purportedly a government agency in India - through Western Union.
The scammer then asked for another $900 and Mrs Roopinder refused, spoke to a friend and realised she had been tricked.
She went straight back to the bank to have the payment stopped but it was too late.
"I was scared ... now I am angry," she said. "I just don't want this to happen to anyone else. It's my responsibility.
"If they call you - do not pay them. Call Immigration first to confirm it is them."