Woman's car went through bridge guard rail and into river after failing to take bend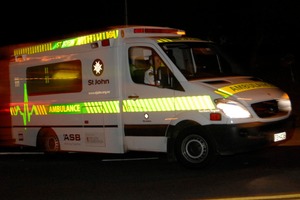 A young farm worker was killed when the car she was driving crashed through a guard rail on a bridge and plunged into a river.
Keryn Michelle Swainson, 20, was driving alone when she failed to take a right-hand bend and crashed on Turakina Valley Rd near Hunterville about 9 on Wednesday night.
Police are still investigating the crash, which will be referred to the coroner.
Ms Swainson's family were too distraught to speak yesterday, but paid tribute to her on Facebook.
Younger brother Tim described her as "my beautiful darling sister".
Zoe Smith wrote: "Rest in peace Keryn my beautiful cousin gone but never forgotten."
Ms Swainson attended Feilding High School.
She was working as a wool technician near Hunterville.
She had previously worked as a shearer on a South Island property and it is understood she only recently returned to her home province.
Yesterday, the small Hunterville community was rallying around Ms Swainson's family, including parents Richard and Mandy and her sister Rebecca.
Ms Swainson's death comes just days before the start of the official holiday period for road statistics, which begins at 4pm on Tuesday (Christmas Eve) and finishes at 6am on January 3.
New Zealand Transport Agency figures show that during the 2012/13 Christmas holiday period there were six fatal crashes and 237 reported injury crashes.
Seventy people suffered serious injuries and 283 minor injuries.
Of those killed, three were drivers, two were passengers and the sixth a pedestrian.
All six deaths and 62 per cent of the reported injuries occurred on the open road.
Just under half of the crashes were the result of drivers losing control or running off the road.
In a bid to reduce fatal road accidents and trauma, police have launched a summer-long road safety campaign.
Until the end of next month, a 4km/h speed-limit tolerance is being strictly enforced throughout the country and police are also focusing on drink-drivers, travellers not wearing seat belts and other "unsafe behaviour".
A police spokesman said summer was "a risky season" on New Zealand roads.
"Police will do everything we can to save lives, prevent injuries and leave fewer grieving families behind.
"This is why police will be focused on drink-driving, restraints and other unsafe behaviour on our roads this summer, along with strict enforcement of a reduced speed threshold of 4km/h."