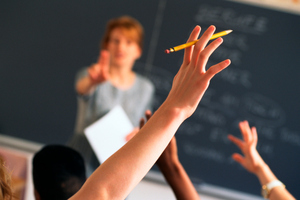 A teacher was censured for calling students slag, loser and prick, mocking their names and making derogatory comments about their ethnicities.
Barbara McConnell, who has taught at Auckland's Mt Roskill Grammar for 10 years, was asked to stay at home on full pay following complaints about her behaviour on September 18 last year.
The school's board of trustees investigated the allegations and later issued her a written warning over the incident.
Mrs McConnell then took a case before the Employment Relations Authority (ERA), alleging she was unjustifiably disadvantaged by being suspended and issued a warning.
The ERA heard several students complained after she covered a lesson for another teacher's music class, whose students she did not know.
The students alleged she called one female student a ``slag'' and two male students ``loser'' and ``prick''.
School principal Greg Watson called Mrs McConnell that evening and asked her to stay away from school, on full pay, while an investigation was carried out.
The next day, he tasked his deputy principal, Jennifer Anne Barker, with gathering comments the students had written down immediately after the incident.
She also invited students to write down further comments on the incident.
Ms Barker's analysis found 18 students wrote that Mrs McConnell had called a student a ``prick'', 16 wrote she called a student a ``slag'' and 14 wrote she called a student a ``loser''.
There were also multiple complaints that she had told a student to shut up, mocked students' names, talked about suicide, suggested a student would be bashed for wearing a red shirt, said a teacher would be fired, and made derogatory comments about ethnicities.
Two disciplinary meetings followed, one of them described as tense.
The board determined that, on the balance of probabilities, Mrs McConnell had used the language alleged, and issued her a warning.
She argued before the ERA that the students' complaints were misinterpretations, lacked independence, contained discrepancies and were motivated by her disciplining the class. She denied calling the students slag, prick or loser.
The ERA said her submissions appeared to corroborate allegations she mocked students' names and made comments about their ethnicities.
It said her comments could be inferred to suggest students were ranked by ethnicity, and ethnicities such as Pacific Islanders were ``poor''.
The ERA found Mrs McConnell was not unjustifiably disadvantaged.
She had not been suspended but transferred to work at home, which the school was entitled to do in the interests of teacher and student welfare.
The ERA noted Mrs McConnell was being treated for anxiety at the time and had falsely blamed a student and his parents for the complaints.
The authority also found she was not disadvantaged by the written warning.
- APNZ