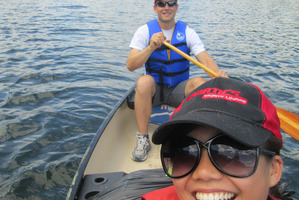 Fences capable of holding 2500 tonnes of rock will be installed at the Diana Falls slip next year where two Canadian tourists were swept to their deaths.
The NZ Transport Agency aims to get State Highway 6 permanently open to two lanes, however it will not be until at least April before the road is expected to fully reopen.
Canadian tourists Connor Hayes and Joanna Lam were travelling through Haast in September when a huge slip swept their van into the raging and flooded Haast River.
The road has been partially blocked ever since.
"Early in the New Year we will begin work drilling and blasting the large 200 and 300-tonne rocks sitting at the head scarp of the slip into smaller two to three-tonne pieces to be removed from the slip face," senior network manager Mark Pinner said.
"We will aim to do this with minimal impact on motorists travelling through the area."
Following this work attenuator fences will be installed.
"These fences will be anchored either side of the slip face, draping across the slip and standing about 1.5 metres high to catch any rocks or material that may fall from above.
"These will be capable of catching and holding up to 2500 tonnes (about 1000 cubic metres) of rock and material, and once installed, a regular programme of clearing and checking the fences will begin."
Mr Pinner said they planned to create a mouth at the top of the channel on the slip's 30m vertical face to catch and then funnel any material off the slip face before Christmas.
"After we have drilled the rocks at the top of the face and installed the attenuators, we plan by late February early March to be in a position to drape mesh netting across the vertical face.
"It will be positioned 2m above the top of the slip's sheer rock face and it will follow the rock face down to act as a chute for any material that might move off the slip. The netting will also help limit rocks moving down the mountainside from bouncing onto the road."
- The Greymouth Star